Netball
Overview
DATES
Sunday 8 October – Saturday 14 October 2023
TIMES
8.00am – 5.00pm
VENUE
Netball SA Stadium
Games Entry Fee
Early Bird entry fee $125 per person 
Discounted price for competitors aged 70+ is $110 per person 
(the above entry fees will increase to standard pricing of $155 and $145 respectively as at 1 August 2023)
Please note: All transactions are subject to a PayPal charge (1.5% of total amount due +$0.30).
Further details available in the Games Entry Terms & Conditions. 
Sport Entry Fee
$80 per person
$15 per person per additional team entered
Last Updated: 25/01/2023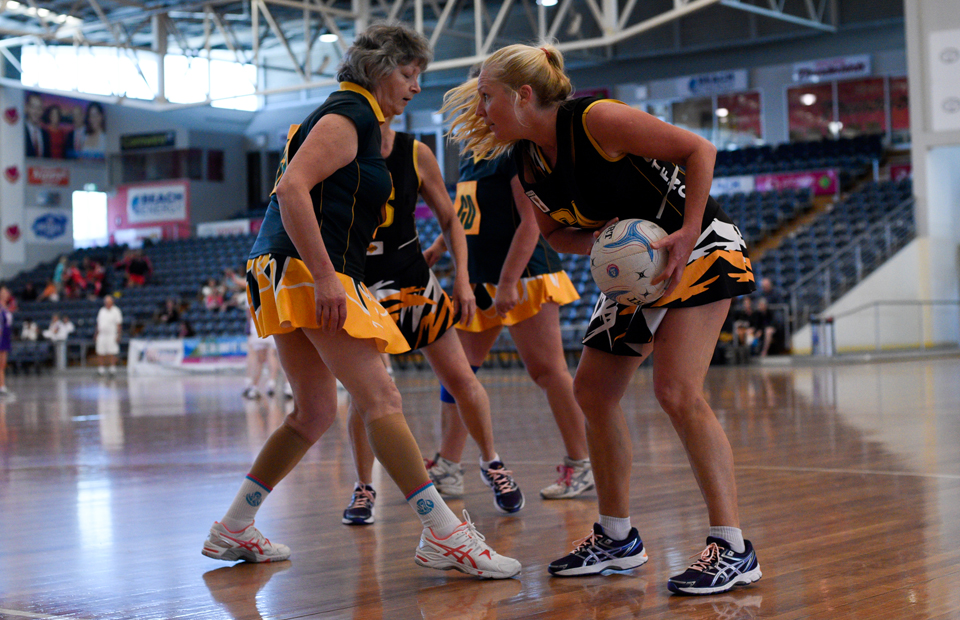 ENTER NETBALL NOW!
Age Requirements
Age determined at 31 December 2023
Minimum age 30 years
Age Groups
Female: 30+, 35+, 40+, 45+, 50+, 55+, 60+, 65+
Mixed: 30+, 40+ 50+, 60+
Walking: 30+, 40+, 50+, 60+
Divisions
Division 1 ( Women's Competitive)
Division 2 (Women's Social)
Division 3 (Mixed Competitive)
Division 4 (Mixed Social)
Division 5 (Walking)
Minimum Squad Size Requirements
Minimum: 7
Maximum: 12
Number of Participant Requirements
Minimum number of participants required to conduct competition: 6 teams
Netball SA Stadium
Netball SA Stadium, Keswick Terminal SA 5035
Additional Information
Participants may only play in a maximum of two teams

No individual entries 

Each team must supply an umpire with minimum C badge qualifications, a timer and a scorer. All umpires must register as a Non-playing Official
Unless team registrations are extremely high, all matches will be played indoors. Any outdoor matches will be split fairly between teams.
Mixed & Men's Competitions:
Competitions are subject to receiving sufficient team entries. If insufficient entries are received the Committee reserves the right to cancel either competition.
Rounds will consist of 4 x 10 minute quarters, with breaks of 2, 3 and 2 minutes. No injury time is provided.

A maximum of three (3) and minimum of one (1) male player is permitted on the court at any time. Only one (1) male is allowed in each third at any time (i.e one male as GK or GD, one male as WA, WD or C and one male as GA or GS).
Rules
The competition will be conducted under the official rules of Netball Australia and the 2023 AMG Netball Rules.
Walking Netball
The Walking Netball competition will be conducted by Netball SA and the 2023 AMG Walking Netball Rules.
Netball Specific Enquiries
Kelly Sandona
Netball SA
Events Manager
(08) 8238 0532
kelly.sandona@netballsa.asn.au
Australian Masters Games Enquiries
Click Here
Stay up to date
Receive all the latest Australian Masters Games news delivered direct to your inbox.