Athletics
Registration Close Dates
Soft Close: Thursday 7 September 2023
Hard Close: Thursday 21 September 2023
Overview
DATES
Track and Field: Saturday 7 October – Tuesday 10 October 2023
Road Walk, Street Mile & Cross Country: Tuesday 10 – Thursday 12 October 2023
TIMES
Track and Field: 8.00am-5.00pm
Out-of-Stadium: Tuesday 10 October – City Mile 6pm – 7pm.
Wednesday 11 October – Cross Country 8am – 11am.
Thursday 12th October – Road Walk 8am – 11am.
Games Entry Fee
Standard Entry fee $155 per person
Discounted price for competitors aged 70+ is $145 per person 
Please note: All transactions are subject to a PayPal charge (1.5% of total amount due +$0.30).
Further details available in the Games Entry Terms & Conditions.
Sport Entry Fee
$33 Per Event – Track & Field
$33 per Event – Out of Stadium (Cross Country, Mile,Walk)
+ $22 late fee now applies
NOTE: Total sport fee cost will be capped at $132 (4 events). Further events entered (i.e. 5th, 6th etc.) will be at no cost.
Last Updated: 21/06/2023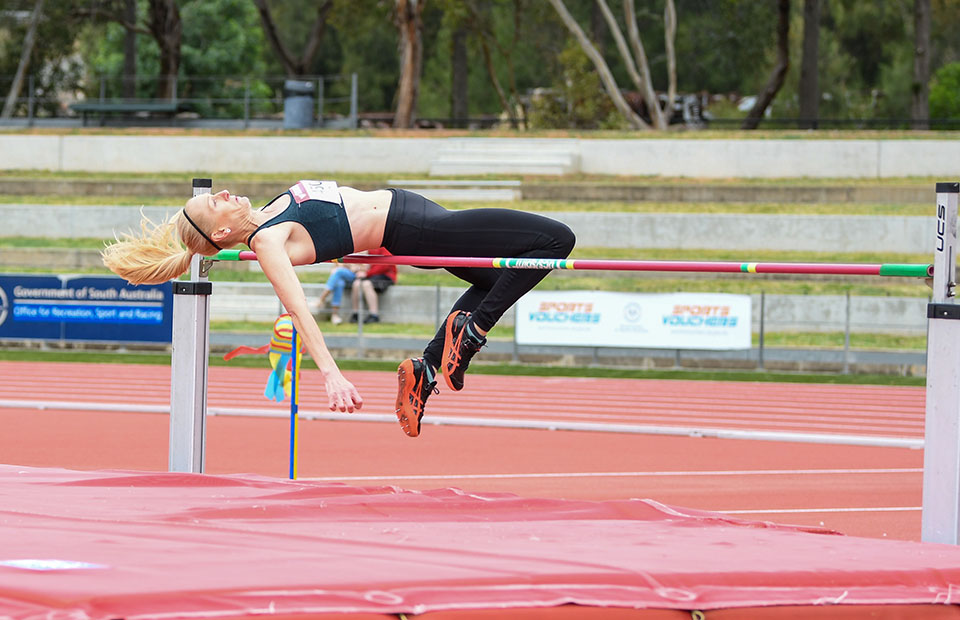 Age Requirements
Age determined at 7 October 2023
Minimum age 30 years
Age Groups
Female: 30-34, 35-39, 40-44, 45-49, 50-54, 55-59, 60-64, 65-69, 70-74, 75-79, 80-84, 85-89, 90-94, 95+
Male: 30-34, 35-39, 40-44, 45-49, 50-54, 55-59, 60-64, 65-69, 70-74, 75-79, 80-84, 85-89, 90-94, 95+
Events
Track and Field: 60m, 100m, 200m, 400m, 800m, 1500m, 5000m, 80m Hurdles, 90m Hurdles, 100m Hurdles, 110m Hurdles, 200m Hurdles, 300m Hurdles, 400m Hurdles, 1500m Walk, 3000m Walk, 2000m Steeplechase, 3000m Steeplechase, Long Jump, Triple Jump, High Jump, Pole Vault, Hammer, Shotput, Discus, Javelin, Weight Throw, Throws Pentathlon, T&F Pentathlon.
*Distances (Hurdles and Steeplechase) and weights (throw events) differ depending on age group.
Out of Stadium: Cross Country, Mile, Walk
Note Cross Country distances:
6km Cross Country (Male and Female age groups 70 and over)
8km Cross Country (Male and Female age groups 30- 69)
Disability Categories: WC,CP,AMP,VI,ID
Number of Participant Requirements
Minimum number of participants required to conduct competition: 200 participants
Last updated: 23/10/2022
SA Athletics Stadium
Marjorie Jackson Nelson Dr, Mile End South SA 5031
Additional Information
Entries for Athletics in 2023 will close on the 7 September.  After this date participants will need to email amg.sport2@unisport.com.au.  Each circumstance will be taken on a case by case basis by Athletics SA and all emails must be sent through by the 21 September.  A late fee of $20 will apply to anyone within this time.
Participants may enter any number of events, but they should consider possible time clashes. Athletics organisers will endeavour to avoid overlap of like events and will permit variation to the order of field event trials where required if time permits.
Athletics organisers cannot guarantee that the timetable will enable multiple event entrants to have access to all nominated events.
Please note that in the event of insufficient entries to conduct heats, the race will be held at the programmed final time.
Athletes are permitted to use spikes with a maximum of 7mm in length.
In the sprint races, blocks will be available to those who wish to use them but they are not compulsory. Standing and three point starting positions are permitted.
Rules
The competition will be conducted under World Athletics, WMA, AMA and 2023 AMG Competition rules (TBC)
Site Maps
To view the relevant course map, please follow the link below.
City Mile
Road Walk
Cross Country
Athletics Specific Enquiries
Lisa Attenborough
Event Support & Officials Coordinator
08 8354 3477
operations@athleticssa.com.au
2023 Australian Masters Games General Enquiries
Stay up to date
Receive all the latest Australian Masters Games news delivered direct to your inbox.