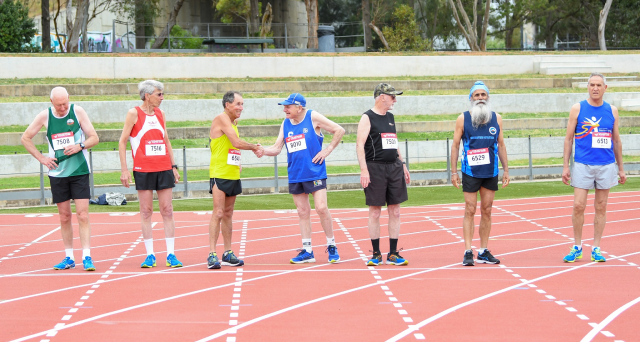 Created by the Confederation of Australian Sport in 1987, the Australian Masters Games is a week-long festival of sport that brings together weekend warriors from around Australia, and the world, to enjoy an extensive sport and social program in an exciting holiday destination.
The 18th Edition of the Australian Masters Games which were due to be held from 9-16 October 2021 has been postponed until 23-30 April 2022.
The Games offer the opportunity to get active, social and adventurous.
The Sport
The Australian Masters Games is one of Australia's largest regular multisport festivals with an extensive sport program offering over 40 different sports. All the big ones – softball, baseball, athletics, lawn bowls, dragon boat… plus lots of other great sports to round out the program including ten pin bowling, darts, petanque and powerlifting to name just a few. There truly is something for everyone!
And the best news is, you don't need to be a superstar to participate, with entry open to all who meet the minimum age criteria. In most sports this is 30 years. Many Games participants enter multiple sports too, for extra bang for their buck.
The Social Program
At the conclusion of play each day, play time really kicks off!
The Games is renowned for its social program almost as much as the sport. The opportunity to explore iconic Perth locations will combine with a jam packed entertainment program. It will be epic.
The Destination
The Australian Masters Games is a truly national event, offering an exciting new location to explore each edition. In 2022, we head west to Perth, Australia's sunniest capital city. If you haven't visited for a while, you'll be blown away by how much it has changed. And if you've never visited, there is no better time than April 2022!
Immerse yourself in the sport, connect with Games participants and discover all that Western Australia has to offer. We cannot wait to welcome you to Perth in April 2022.
History of the Australian Masters Games
The Australian Masters Games is the original and the best masters event in Australia.
The Confederation of Australian Sport held the first Australian Masters Games in Tasmania in 1987 and set the stage for large multisport festivals for the masters age group (30 years and over) in Australia. This is just the second time that Perth has hosted the Australian Masters Games, the first being the fourth edition back in 1993, and it promises to be spectacular!
Scroll right to see all table data.
| Year | Edition | Host City |
| --- | --- | --- |
| 2022 | 18th | Perth |
| 2019 | 17th | Adelaide |
| 2017 | 16th | Tasmania's North West |
| 2015 | 15th | Adelaide |
| 2013 | 14th | Geelong |
| 2011 | 13th | Adelaide |
| 2009 | 12th | Geelong |
| 2007 | 11th | Adelaide |
| 2005 | 10th | Adelaide |
| 2003 | 9th | Canberra |
| 2001 | 8th | Newcastle |
| 1999 | 7th | Adelaide |
| 1997 | 6th | Canberra |
| 1995 | 5th | Melbourne |
| 1993 | 4th | Perth |
| 1991 | 3rd | Brisbane |
| 1989 | 2nd | Adelaide |
| 1987 | 1st | Tasmania |
Stay up to date
Receive all the latest Australian Masters Games news delivered direct to your inbox.