Fencing
Entries close date
11.59pm, Friday 25 March 2022
Overview
DATES AND TIMES

Foil: Saturday 23rd April 2022
Individual: 8.30am Teams: 1:00 pm
Epee: Sunday 24th April 2022
Individual: 9:00 am Teams: 2.00 pm
Sabre: Monday 25th April 2022
Individual: 1.00pm Teams: 3.00 pm
Games Entry Fee
$115 per person or $105 per person for people aged 70+
(the above entry fees will increase to $145 and $135 respectively as at 11 February 2022)
Please note: All transactions are subject to a PayPal charge (1.5% of total amount due +$0.30).
Further details available in the Games Entry Terms & Conditions.
Sport Entry Fee
$40 per person
$15 per additional weapon entry

Last Updated: 22/3/2022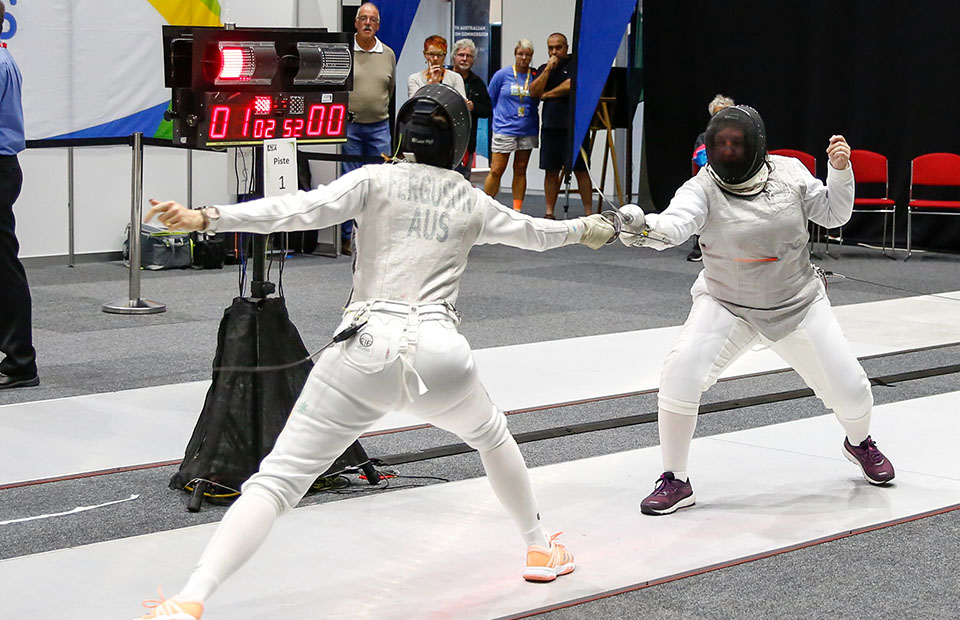 Age Requirements
Age determined at 31 December 2022
Minimum age 30 years
Age Groups
Female: 30+
Male: 30+
Mixed: 30+
Divisions
Sabre – Individual
Sabre – Teams
Epee – Individual
Epee – Teams
Foil – Individual
Foil – Teams
Number of Participant Requirements
Minimum number of participants required to conduct competition: 4 participants
Squad Sizes
Minimum number of competitors per team: 3 competitors
Maximum number of competitors per team: 4 competitors
UWA Fencing Club
UWA International Martial Arts Centre, Cnr Goldsworthy Rd and Princess Rd, Claremont Western Australia 6010
Additional Information
Participants who do not have a current financial membership or State Affiliated Association membership will be required to become one by the commencement of the Games. More information can be found on the Australia Fencing Federation website.
Rules
The competition will be conducted under the rules set out by the Australian Fencing Federation and FIE.
Fencing Specific Enquiries
Sharon Dale
Fencing WA
0424 392 838
fencingwapresident@gmail.com
Dee Jennings
Fencing WA
0419 938 308
fencingwacomms.events@gmail.com
2022 Australian Masters Games General Enquiries
Stay up to date
Receive all the latest Australian Masters Games news delivered direct to your inbox.