Fencing
Registration Close Date
Thursday 5 October 2023 at 5pm
Overview
DATES

Saturday 7 – Sunday 8 October 2023
TIMES
Saturday
Men's Epee – 10am
Women's Epee – 10am
Epee Teams – 2pm/after individual Epee concludes
Sunday
Men's Foil – 9.30am
Women's Foil – 9.30am
Foil Teams – 12pm/after individual Foil concludes
Men's Sabre – 2pm
Women's Sabre – 2pm
Sabre Teams – 3pm/after individual Sabre concludes
Games Entry Fee
Standard Entry fee $155 per person
Discounted price for competitors aged 70+ is $145 per person 
Please note: All transactions are subject to a PayPal charge (1.5% of total amount due +$0.30).
Further details available in the Games Entry Terms & Conditions.
Sport Entry Fee
$40 per person (includes first entry)
$15 per additional weapon entry

Last Updated: 2/5/2023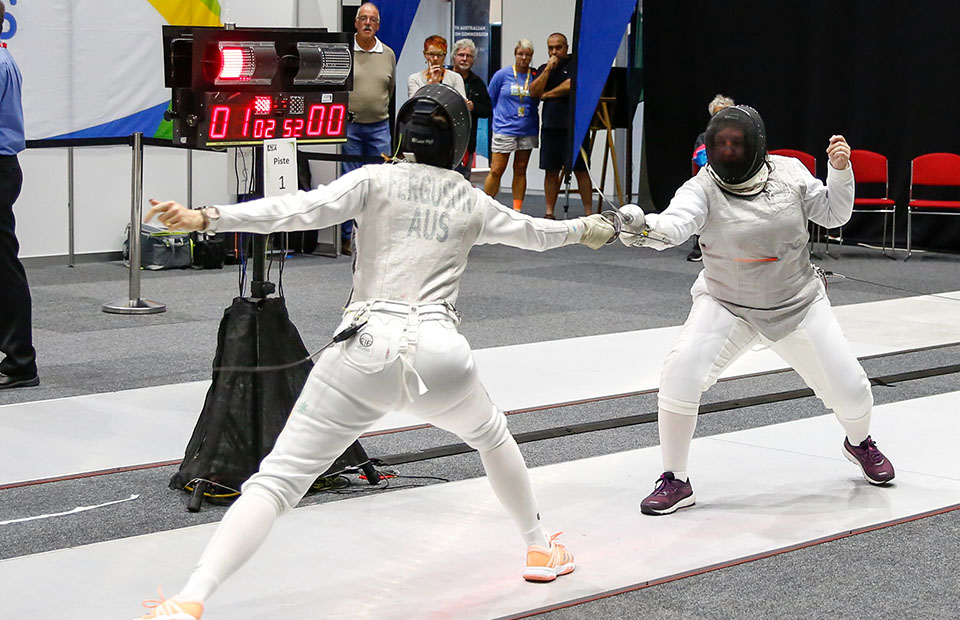 Age Requirements
Age determined at 31 December 2023
Minimum age 30 years
Age Groups
Female: 30-39, 40-59, 50-59, 60-69, 70+
Male: 30-39, 40-59, 50-59, 60-69, 70+
Teams: Organised on the day
Divisions
Sabre – Individual
Sabre – Teams
Epee – Individual
Epee – Teams
Foil – Individual
Foil – Teams
Number of Participant Requirements
Minimum number of participants required to conduct competition: Four entrants required per weapon for the event to go ahead. In the event of three or fewer men/women entered, the events will be fenced mixed.
The Lights Community and Sports Centre
244 - 270 East Parkway Corner Hampstead Road and, 244-270 East Pkwy, Lightsview SA 5085
Individual Events
Fencers will be allocated to pools following roll call on the day of competition.
Team Events
Format will be decided and fencers allocated to teams on the day of the event.
Additional Information
Events with fewer than 4 men/women will be fenced mixed, per the FencingSA Event Gender Format Policy https://fencingsa.org.au/Rules"
Mixed teams events (min 3, max 4 per team): foil, epee, sabre
Fencers will be placed in to teams on the day of the event
All fencers are required to be affiliated. This is completed via their State association and sent to the Australian Fencing Federation (same procedure as per fencers competing in National events).
Rules
The competition will be conducted under competition rules for Veteran events as set out by the Australian Fencing Federation.
Equipment Standards
The competition will follow the Equipment Standards for FencingSA Veteran competitions: https://fencingsa.org.au/Equipment
Equipment Control
Equipment Control checks will be conducted on-piste prior to the commencement of each event. Formal pre-competition Equipment Control (as performed at AFF events) will not be conducted. Fencers are expected to have all their equipment in good working order.
Roll Call
Roll call will be conducted 15 minutes prior to the start of each event – any fencer not present at roll call risks elimination from the event.
Stay up to date
Receive all the latest Australian Masters Games news delivered direct to your inbox.