Table Tennis
Entries Close Date
11.59pm Thursday, 31 March 2022
Overview
DATES
Wednesday 27 April – Saturday 30 April 2022
Please note times of events have changed – see below
TIMES
Wednesday 27 April
9.30am: Men's Doubles 60+
9.30am: Women's Doubles – All Ages
11.00am: Men's Singles 70+
11.00am: Women's Singles 60+
1.00pm: Women's Singles – Over 40
1.00pm: Mixed Doubles 70+
2.30pm: Men's Singles 60+
2.30pm: Mixed Doubles Men Over 70
Thursday 28 April
9.30am: Men's Doubles Over 40
9.30am: Men's Doubles 70+
11.00am: Mixed Doubles 60+
11.00am: Mixed Doubles Men Over 60
11.00am: Mixed Doubles Over 40
2.30pm: Men's Singles Over 40
Friday 29 April
9.30am: Team Event
1.30pm: Team Event continued
Saturday 30 April
9.30am: Men's Open Singles
9.30am: Women's Open Singles
1.00pm: Finals
Games Entry Fee
$115 per person or $105 per person for people aged 70+
(the above entry fees will increase to $145 and $135 respectively as at 11 February 2022)
Please note: All transactions are subject to a PayPal charge (1.5% of total amount due +$0.30).
Further details available in the Games Entry Terms & Conditions.
Sport Entry Fee
All Events: $60 per participant
Last Updated: 15/03/2022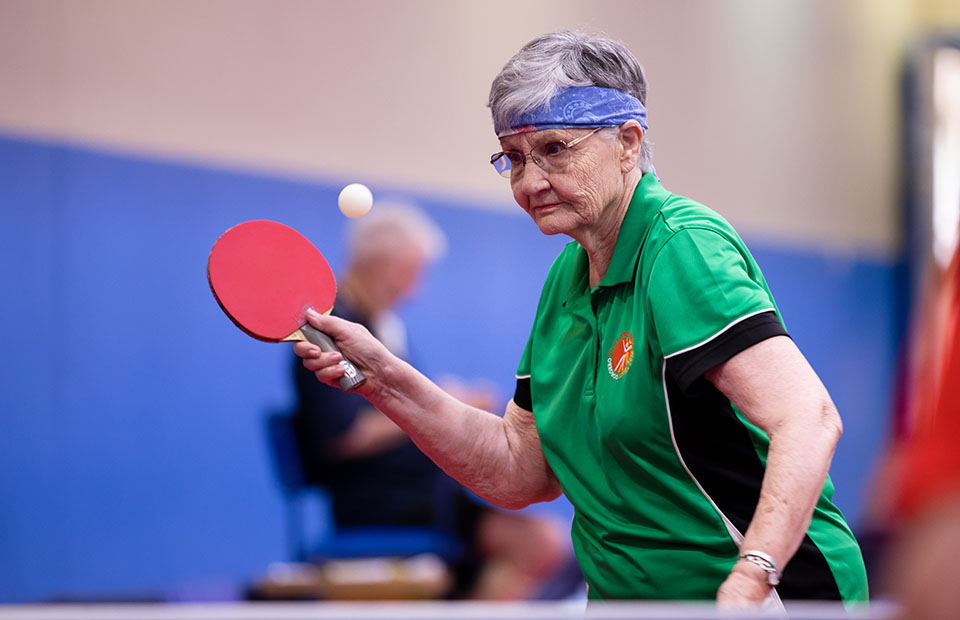 ENTER TABLE TENNIS NOW!
Age Requirements
Age determined at 31 December 2022
Minimum age 30 years
Age Groups
Female: 30+, 40+, 50+, 60+ and 70+
Male: 30+, 40+, 50+, 60+ and 70+
Mixed Doubles: 30+, 40+, 50+, 60+ and 70+
Teams: 30+
Open: 30+
Events
Female: Singles and Doubles
Male: Singles and Doubles
Mixed: Doubles and Teams
Number of Participant Requirements
Minimum number of participants required to conduct competition: 40 participants
Scarborough Leisure Centre
173 Gildercliffe Street, Scarborough Western Australia 6019
Additional Info
ITTF – 11 point match format (best of five games, or best of three games) will apply.
Teams Format: Two players required with a gender mix encouraged. If you require placement in a team enter 'required' in team name section. Team members may play in only one age group and one division.
For non-open competitions, players may only enter a total of FOUR events (two singles and two doubles) in this category and only in eligible adjacent age groups for each event. Example: If age 60+, participant can enter both 50+ and 60+ for the relevant event.
Double vaccination is required to gain entry to the table tennis venue and therefore this level of vaccination is required to compete
Rules
The competition will be conducted under ITTF rules.
Table Tennis Specific Enquiries
Ken Li
0417 880 003
kenli_84@hotmail.com
2022 Australian Masters Games General Enquiries
Stay up to date
Receive all the latest Australian Masters Games news delivered direct to your inbox.