Table Tennis
Registration Close Dates
Friday 15 September 2023
Overview
DATES
Thursday 12 – Saturday 14 October 2023
TIMES
9am-5pm (Thursday)
9am-5pm (Friday)
9am-5:30pm (Saturday)
Games Entry Fee
Standard Entry fee $155 per person
Discounted price for competitors aged 70+ is $145 per person 
Please note: All transactions are subject to a PayPal charge (1.5% of total amount due +$0.30).
Further details available in the Games Entry Terms & Conditions.
Sport Entry Fee
All Events: $60 per participant
Last Updated: 5/12/2022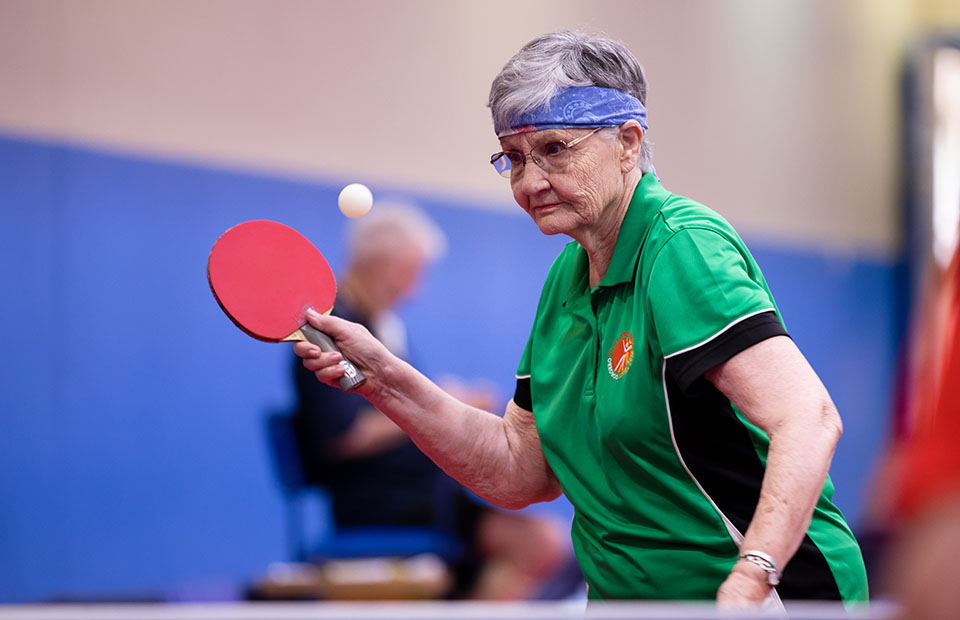 Age Requirements
Age determined at 31 December 2023
Minimum age 30 years
Age Groups
Division 1 and Division 2 offered where numbers allow
Singles: 30-40, 41-50, 51-60, 61-70, 71-80, 81-90
Doubles: 30-40, 41-50, 51-60, 61-70, 71-80, 81-90
Mixed Doubles: 30-40, 41-50, 51-60, 61-70, 71-80, 81-90
Team Events: 30-40, 41-50, 51-60, 61-70, 71-80, 81-90
Disability categories: WC, CP, AMP, VI, ID
Events
Female: Singles and Doubles
Male: Singles and Doubles
Mixed: Doubles and Teams
Number of Participant Requirements
Minimum number of participants required to conduct competition: 35 participants
Houghton Table Tennis & Sports Club
Stradbroke Rd & Whites Ln, Newton SA 5074
Additional Info
ITTF – 11 point match format (best of five games and advantage) will apply.
Teams Format: Three players required with a gender mix encouraged. If you require placement in a team enter 'required' in team name section.
Team members may play in only one age group and one division.
Where there are not sufficient entries, age group/divisions may be combined.
Rules
The competition will be conducted under the laws of ITTF.
Table Tennis Specific Enquiries
Cynthia Langley
Table Tennis SA
Event Management Director
0403 230 150
clangley@tabletennissa.org.au
2023 Australian Masters Games General Enquiries
Stay up to date
Receive all the latest Australian Masters Games news delivered direct to your inbox.