Golf
Overview
DATES
Individual Stableford: Monday 9 October 2023
Grange Golf Club
Individual Stableford: Wednesday 11 October 2023
Patawalonga Golf Course
Individual Stableford: Friday 13 October 2023
West Lakes Golf Club
TIMES
12.45pm (Grange)
7.45am (Patawalonga)
12.45pm (West Lakes)
Games Entry Fee
Early Bird entry fee $125 per person 
Discounted price for competitors aged 70+ is $110 per person 
(the above entry fees will increase to standard pricing of $155 and $145 respectively as at 1 August 2023)
Please note: All transactions are subject to a PayPal charge (1.5% of total amount due +$0.30).
Further details available in the Games Entry Terms & Conditions.
Sport Entry Fee
2023 AMG Golf Program (all 3 days): $265 per person
or
Individual Stableford (Grange): $155 per person
Individual Stableford (Patawalonga): $50 per person
Individual Stableford (West Lakes): $85 per person
Last Updated: 19/01/2023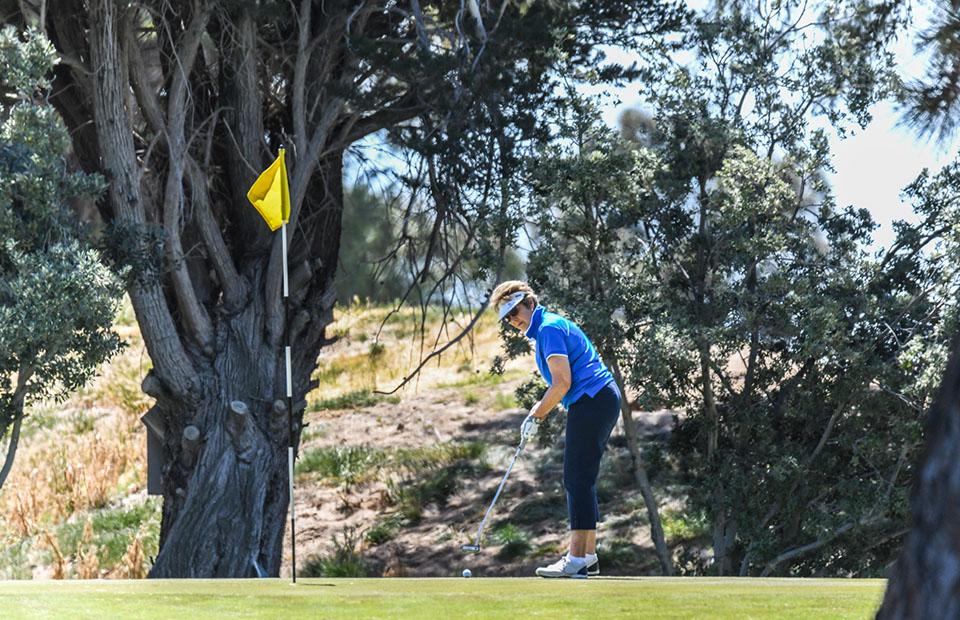 ENTER GOLF NOW!
Age Requirements
Age determined at 31 December 2023
Minimum age 30 years
Age Groups
Female: 30-39, 40-49, 50-59, 60-69, 70+
Male: 30-39, 40-49, 50-59, 60-69, 70+
Number of Participant Requirements
Minimum number of participants required to conduct competition: 100 participants
Maximum number of participants: 120 participants
10 participants will be required to conduct an age bracket, otherwise they will be merged with the closest bracket
Grange Golf Club (Monday 9 October)
White Sands Dr, Grange SA 5022
Patawalonga Golf Course (Wednesday 11 October)
Parks Golf Park, Military Rd, West Beach SA 5024
West Lakes Golf Club (Friday 13 October)
26 Lochside Dr, West Lakes SA 5021
Additional Information
Maximum of 120 players – Men & Women
Maximum GA Handicaps – Men –36; Women –45
Minimum age of 30;
Separate age groups for men and women provided a minimum of ten entries are received in each respective age group. Following the close of entries, age groups will be finalised for each gender to ensure a minimum of ten players in each
Following the close of entries, two separate handicap divisions will be determined for each age/gender category provided a minimum of twenty entries are received in that age/gender category
Participants must supply their Golf Link Number and handicap or, if international, provide proof of handicap from their relevant national body
The 2023 Australian Masters Games Golf Events are open to male and female amateurs and professionals whose GA Handicap (or equivalent) at the time of entry does not exceed 36 strokes (men) and 45 strokes (women)
Rules
The competition will be conducted in accordance with the Rules of Golf as adopted by R&A Rules
Limited, together with such local rules as are in force on the courses over which the competition rounds are being played. If any dispute arises on any point, it shall be decided by the Championship Committee whose decision shall be final.
Golf Specific Enquiries
Colin Anderson
Golf Australia
0447 082 169
colin.anderson@golf.org.au
2023 Australian Masters Games General Enquiries
Stay up to date
Receive all the latest Australian Masters Games news delivered direct to your inbox.