Bocce
Registration Close Date
Friday 29 September 2023
Overview
DATES
Wednesday 11 – Friday 13 October 2023
TIMES
Bocce Volo Doubles: Wednesday 11 October – Thursday 12 October (9am-4pm Wed, 9am-11am Thu)
Bocce Raffa Doubles: Friday 13 October, 9am-8pm
Games Entry Fee
Standard Entry fee $155 per person
Discounted price for competitors aged 70+ is $145 per person 
Please note: All transactions are subject to a PayPal charge (1.5% of total amount due +$0.30).
Further details available in the Games Entry Terms & Conditions.
Sport Entry Fee
$20 (Bocce Australia members)
$40 (Bocce Australia non-members)
Last updated: 10/05/2023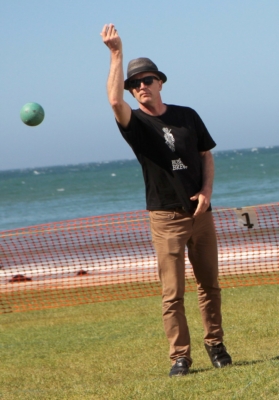 ENTER BOCCE NOW!
Age Requirements
Age determined at 31 December 2023
Minimum age 30 years
Age Groups
30+
Divisions
Bocce Volo Doubles
Bocce Raffa Doubles
Number of Participant Requirements
Minimum number of participants required to conduct competition: 20
Sicilia Social & Sports Club Inc
45a OG Rd, Klemzig SA 5087
Additional Information
There are three doubles events: Bocce Volo and Bocce Raffa.  People can register for these events either

As a team of 2, or:
Register on their own, in which case Bocce SA will place them on a list, from which teams of 2 will be selected by lot (Bocce SA will have a registered person that will step in if there are odd numbers on the single registrations list).

All events are open gender
There are no Rules or Regulations on the Dress Code. Participants must wear enclosed shoes.
Rules
The Bocce Volo and Bocce Raffa competitions will be conducted under Federation Internationale de Boules Rules.
All registered participants will be informed of specific event Tournament Regulations post registrations closing.
Raffa Bocce Rules
https://australianmastersgames.com/wp-content/uploads/Raffa-Bocce-1.pdf
Stay up to date
Receive all the latest Australian Masters Games news delivered direct to your inbox.