Petanque
Overview
DATES
Sunday 8, Monday 9, Tuesday 10, Thursday 12 & Friday 13 October 2023
TIMES
9,00am – 5.00pm
Games Entry Fee
Early Bird entry fee $125 per person
Discounted price for competitors aged 70+ is $110 per person 
(the above entry fees will increase to standard pricing of $155 and $145 respectively as at 1 August 2023)
Please note: All transactions are subject to a PayPal charge (1.5% of total amount due +$0.30).
Further details available in the Games Entry Terms & Conditions.
Sport Entry Fee
$10 per person, per competition
Last Updated: 24/10/2022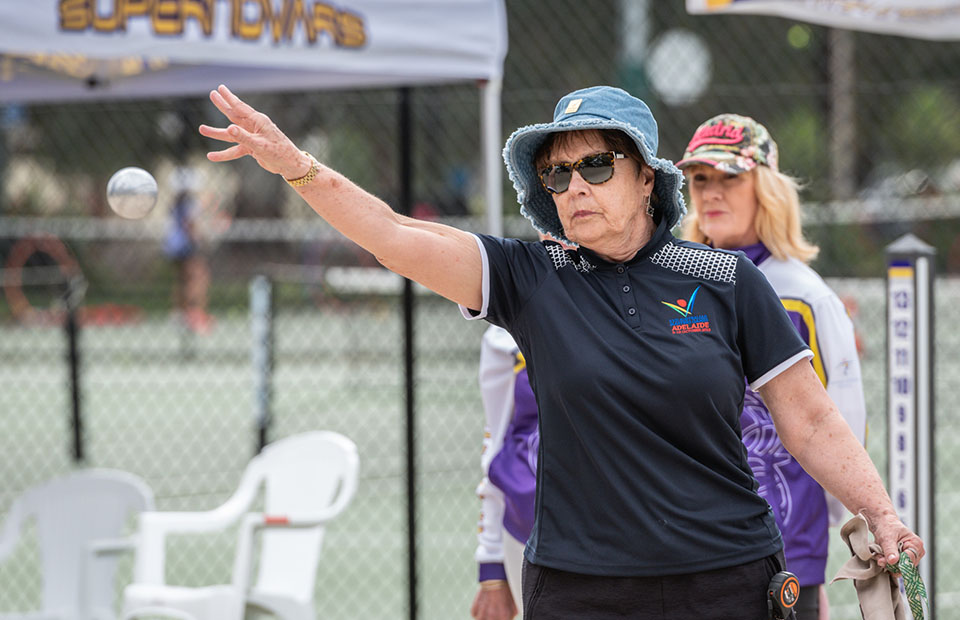 ENTER PETANQUE NOW!
Age Requirements
Age determined at 31 December 2023
Minimum age 30 years
Age Groups
Open 30+, 70+
Divisions
Female Singles (Tuesday 10 October)
Female Doubles (Thursday 12 October)
Female Triples (Monday 9 October)
Male Singles  (Tuesday 10 October)
Male Doubles (Thursday 12 October)
Male Triples (Monday 9 October)
Mixed Doubles (Friday 13 October)
Number of Participant Requirements
Minimum number of participants required to conduct competition: Singles 12, Doubles 24, Triples 36
Club De Petanque D'Adelaide
Corner Greenhill and Unley Roads, Adelaide 5000
Eastern Suburbs Petanque, @ Unley Sports Club
Eastern Suburbs Petanque Inc.
8 Northgate St, Unley Park SA 5061
Novar Gardens Petanque Club
489 ANZAC Highway, Novar Gardens, SA 5040
Prospect Petanque Club
14-32 Buchanan St, Nailsworth SA 5082
Pétanque will be played as a series of five different competitions. Within each competition there will be two age groups, Open (30yrs+) and 70+ (with age determined by AMGs criteria as over 30 or 70 years of age at 31-12-2023).  Merging of a competition categories on the day may be required, as dictated by numbers, this will ensure strong competition.
Competition divisions are:
For each age group, Open (30yrs+) and 70yrs+
Singles -Male & Female
Doubles – Male, Female & Mixed
Triples –  Male, Female & Mixed (at least one Male and one Female)
With two age categories in each division – Open (30yrs+) and 70yrs+.
Teams of 1, 2 or 3 players in each age category
Entries – International,  National and State
An even number of teams would be preferable (but not essential) with a minimum of 6 teams  required to hold the competition in any one category
Entry fees
AMG fees
Plus for each competition $10 per person, plus a daily Lunch fee of $10 per person per day if required (i.e. lunch is optional)
Note PFA Day Licences will be at no charge
Playing format:
For all events…
All teams play the same number of games (may include byes) in a random draw
Final rankings determined by overall wins and points
Medals to top three place-getters
All games played to 13, unless time limit is reached
When time is called, finish the end and play one more end if a score of 13 has not been reached
If scores are then tied, an additional end is played
Singles events:
Time called after 40 minutes
7 games played
Doubles events:
Time called after 45 minutes
6 games played
Triples events:
Time called after 55 minutes
5 games played
After completion of competition each day, there will be the presentation of medals ceremony.
Additional Information
Players must be PFA licenced and Day Licence can be registered for here for no cost (as per PFA policy)
Starting times of games are set however subject to change if required
All games will be timed following PFA guidelines.
Social Function to be held on Monday night following the Triples Competition at ESP Petanque Club, at a cost of $10 person (BBQ supper and Bar open)
Players should bring own tape measures.
Players note that no alcohol can be brought into clubs, bar facilities are available. Please bring your own snacks and water bottle.
Parking is mostly 'street parking' except at Novar Gardens PC and Prospect PC where some off street parking is available.
Rules
The competition will be conducted under Petanque Australia Rules available here.
Current relevant documents: PFA/FIPJP Rules of Petanque 2021, PFA Local Rules 2021 and PFA Timed Games Rules
For a briefer summary of the rules refer to, www.petanqueaustralia.org.au/documents/rules-of-the-game2
Social
(Food, bar facilities available)
Lunch optional each day $10 per person, per competition
Social function optional $10 per person
Other
If mobility considerations are required please advise in advance
Dietary considerations may be catered for, refer to Club
Petanque Specific Enquiries 
Naz Saunders
SA Petanque League
AMG Coordinator
0417 560 403
amg@sapetanque.com
Australian Masters Games General Enquiries
Click Here
Stay up to date
Receive all the latest Australian Masters Games news delivered direct to your inbox.