Archery
Entries Close Date
11.59pm Friday, 25 March 2022
Overview
DATES
Saturday 23 April – Tuesday 26 April 2022
Practice: Friday 22 April
Target Long: Saturday 23 April
Target Short: Sunday 24 April
Clout: Monday 25 April (midday equipment inspection)
Field- Marked: Tuesday 26 April
Please see additional info tab for times and event details.
*Wheelchair participation offered for all events except for Field*
Games Entry Fee
$115 per person or $105 per person for people aged 70+
(the above entry fees will increase to $145 and $135 respectively as 11 February 2022)
Please note: All transactions are subject to a PayPal charge (1.5% of total amount due +$0.30).
Further details available in the Games Entry Terms & Conditions.
Sport Entry Fee
Target Short: $50 per person
Target Long: $50 per person
Clout: $20 per person
Field Marked: $40 per person
All Events Bundle: $140 per person
Last Updated: 11/04/2022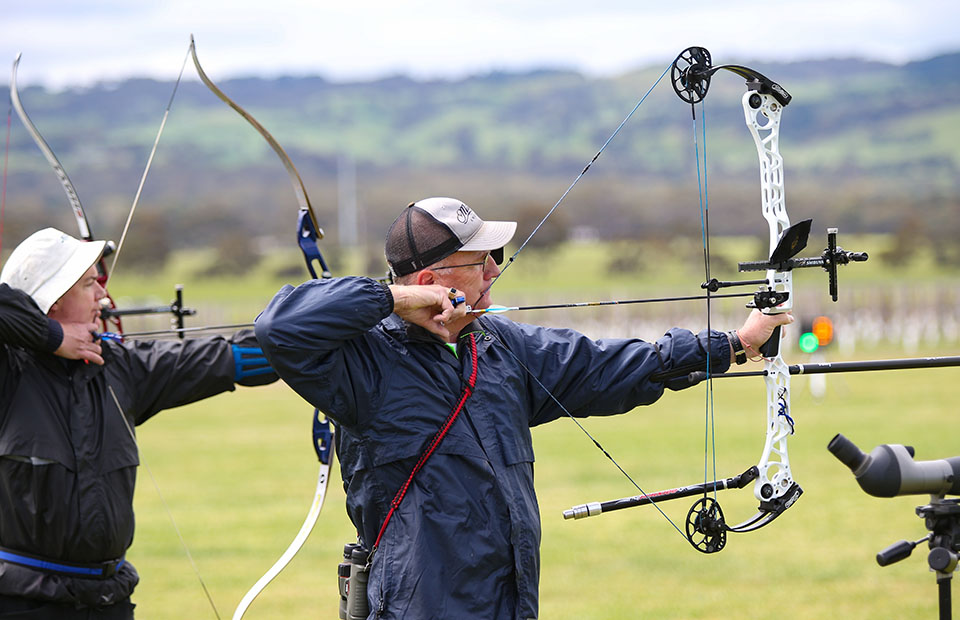 Age Requirements
Age determined at 31 December 2022
Minimum age 30 years
Age Groups
Female: 30-39, 40-49, 50-59, 60-69, 70-79, 80+
Male: 30-39, 40-49, 50-59, 60-69, 70-79, 80+
Number of Participant Requirements
Minimum number of participants required to conduct competition: 60 participants
WA Archery Centre
Jules Steiner Memorial Drive, Beechboro Rd North, Whiteman Western Australia 6068
Friday 22 April – Registration, Equipment Inspection and Practice Day
9.00am – 3.00pm (12.00pm lunch break)
All Archers are required to attend and Register and have your equipment Inspected. If you change any part of your equipment on any day, you will be required to have your equipment re-inspected again prior to the next days event.
Saturday 23 April – Target Long (Canberra)
8.30am Equipment Inspection
9.00am Muster
9.15am Practice Starts
9.30am Competition Commences
Distances – 30mt 30 Arrows / 50mt 30 Arrows / 40mt 30 Arrows = 90 Arrows. (10 Minute break between distance changes)
Sunday 24 April – Target Short (Launceston)
9.00am Equipment Inspection
9.30am Muster
9.45am Practice
10.00am Competition Commences
Distances – 50mt 36 Arrows / 30mt 36 Arrows = 72 Arrows
Monday 25 April – Clout
ANZAC Day – no shooting prior to 12.00pm
12.00pm Equipment Inspection
12.30pm Muster
12.45pm Practice
1.00pm Walk Out & Competition Commences
Single Clout – 36 arrows
Tuesday 26 April – Marked Field
8.30am Equipment Inspection
9.00am Muster
9.15am Practice
9.45am Walk Out & Competition Commences
Event Information
Bow Types (One bow per event)
Recurve (REC)
Compound (COMP)
Barebow Recurve (BBR)
Barebow Compound (BBC)
Longbow (LB)
Crossbow (XB)
Additional Information
 If affiliated with "Other" Temporary Membership must be taken out for each venue to provide insurance coverage.
If verification of affiliation with a recognised archery body cannot be provided, entry may be refused at the discretion of the host club/venue.
 If archer or equipment is deemed unsafe, entry may be refused at the discretion of the host club/venue.
Events will be conducted under the direction of accredited Judges and Directors of Shooting.
Archers are reminded that all events are AA governed events and Compound Bows have a maximum draw weight of 60lbs, as per AA rules. No broadhead arrows permitted.
AA Events held at AA affiliated clubs/venues must comply with AA rules.
As everyone is shooting under the same timing arrangements during the clout and target events, shooting will be 4 minutes for each 6 arrows.
Scoring will be one electronic + one paper scorecard, where possible. Assistance will be provided for those who have not experienced electronic scoring
Participant caps will apply as follows on a first come first serve basis:All Target events – No CapsClout – 80 MaxField – 96 Max
Rules
The competition will be conducted under Archery Australia shooting rules
Stay up to date
Receive all the latest Australian Masters Games news delivered direct to your inbox.