Archery
Overview
DATES
Sunday 8, Monday 9, Tuesday 10, Thursday 12 &  Friday 13 October 2023
Times
10:00am
*Wheelchair participation offered for all events except for Field*
Games Entry Fee
VIP Gold entry fee $125 per person
Aged 70+ $110 per person 
(the above entry fees will increase to standard pricing of $155 and $145 respectively as at 1 August 2023)
Please note: All transactions are subject to a PayPal charge (1.5% of total amount due +$0.30).Further details available in the Games Entry Terms & Conditions. 
Sport Entry Fee
Indoor: $40 per person
Target: $50 per person
Clout: $20 per person
3D: $40 per person
Field: $40 per person
All Events Bundle: $170 per person
Last Updated: 11/11/2022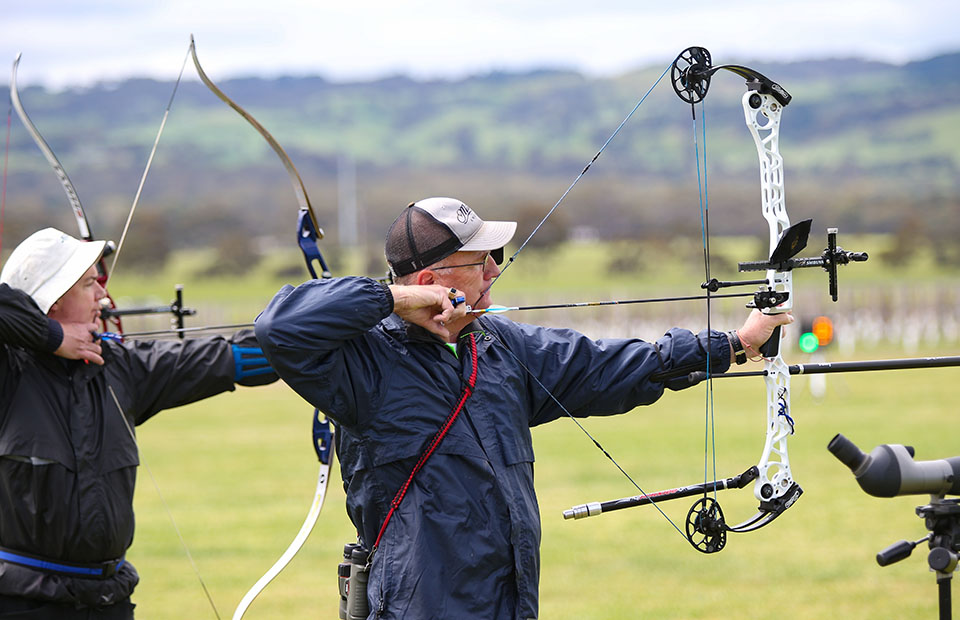 ENTER ARCHERY NOW!
Age Requirements
Age determined at 7 October 2023
Minimum age 30 years
Age Groups
Female: 30-39, 40-49, 50-59, 60-69, 70-79, 80+
Male: 30-39, 40-49, 50-59, 60-69, 70-79, 80+
Number of Participant Requirements
Minimum number of participants required to conduct competition: 15 participants
Sunday 8 October - Goolwa Sports Stadium
Glendale Grove, Goolwa SA 5214
Monday 9 October - Mylor Oval
Strathalbyn Rd, Mylor SA 5153
Tuesday 10 October - Oakbank Racecourse
1 Shillabeer Rd, Oakbank SA 5243
Thursday 12 October - O'Halloran Hill Recreation Park
Majors Rd, O'Halloran Hill SA 5158
Friday 13 October - Shepherds Hill Recreation Park
Ayliffes Rd, St Marys SA 5042
Competition:
Indoor Sunday 8 October 10am – Goolwa Sports Stadium
Target 900 Round: Monday 9 October 10am – Mylor Oval
Clout Single: Tuesday 10 October 10am – Oakbank Racecourse
3D Field: Thursday 12 October 10am – O'Halloran Hill Recreation Park
Field- Marked: Friday 13 October 10am – Shepherds Hill Recreation Park
Note: please view "Venues" tab for precise venue locations
Event Information
Bow Types (One bow per event)
Recurve (REC)
Compound (COMP)
Barebow Recurve (BBR)
Barebow Compound (BBC)
Longbow (LB)
Crossbow (TARGET)
Additional Information
If affiliated with "Other" Temporary Membership must be taken out for each venue to provide insurance coverage.
If verification of affiliation with a recognised archery body cannot be provided, entry may be refused at the discretion of the host club/venue.
 If archer or equipment is deemed unsafe, entry may be refused at the discretion of the host club/venue.
Events will be conducted under the direction of accredited Judges and Directors of Shooting.
Archers are reminded that all events are AA governed events and Compound Bows have a maximum draw weight of 60lbs, as per AA rules. No broadhead arrows permitted.
AA Events held at AA affiliated clubs/venues must comply with AA rules
Scoring will be one electronic + one paper scorecard, where possible. Assistance will be provided for those who have not experienced electronic scoring
Rules
The competition will be conducted under Archery Australia shooting rules
Affiliation
Participants need to provide details of affiliation, e.g., number and/or organisation AA, ABA, 3DAAA, TAA, World Archery
2023 Australian Masters Games General Enquiries
Stay up to date
Receive all the latest Australian Masters Games news delivered direct to your inbox.