Badminton
Overview
DATES
Sunday 8 October – Saturday 14 October 2023
Teams Event – 8 October to 10 October
Singles/Doubles – 11 October to 14 October
TIMES
9.00am – 6.00pm Teams
9.00am – 5.00pm Singles/Doubles
Games Entry Fee
Early Bird entry fee $125 per person
Discounted price for competitors aged 70+ is $110 per person 
(the above entry fees will increase to standard pricing of $155 and $145 respectively as at 1 August 2023)
Please note: All transactions are subject to a PayPal charge (1.5% of total amount due +$0.30).
Further details available in the Games Entry Terms & Conditions.
Sport Entry Fee
Individuals (singles and doubles): $60 per person
Teams: $60 per person
Both: $105 per person
Last Updated: 25/01/2023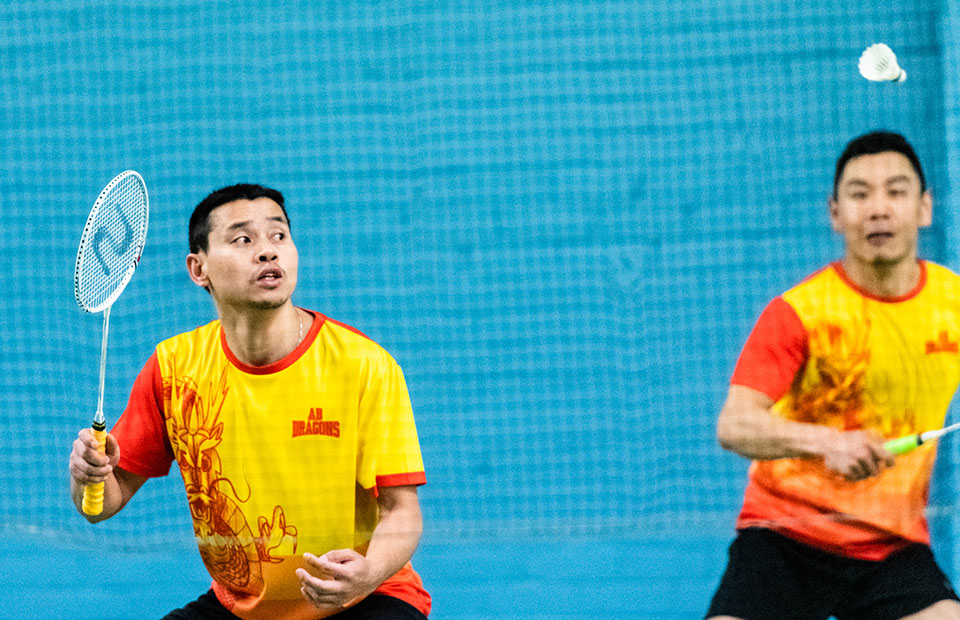 Enter Badminton Now!
Age Requirements
Age determined at 8 October 2023
Minimum age 35 years
Age Groups
Female: 35+, 45+, 55+, 65+
Male: 35+, 45+, 55+, 65+
Mixed: 35+, 45+, 55+, 65+
Divisions
Mens Singles: 35+, 45+, 55+, 65+
Womens Singles: 35+, 45+, 55+, 65+
Mens Doubles: 35+, 45+, 55+, 65+
Womens Doubles: 35+, 45+, 55+, 65+
Mixed Doubles: 35+, 45+, 55+, 65+
Mixed Teams: 35+, 45+, 55+, 65+
Division 1, 2 and 3 offered for all events
Note: Ex state or national players MUST enter in division 1 of their age groups
Number of Participant Requirements
Minimum number of participants required to conduct competition: 80
Minimum number of participants required to conduct an age group (without merging): 4
Squad Sizes
Minimum number of competitors per team: 6 competitors (3 male and 3 female)
Maximum number of competitors per team: 8 competitors
WA Satterley Hall
42 Rutland Ave, Lockleys SA 5032
Additional Information
Team Event Matches will allow only a maximum of 6 players from a squad of 8 to participate in any one tie
Players who have represented their state/country should indicate and must nominate for Division 1 of their age group
Complete beginners should also indicate and nominate for Division 3 of their age group
The teams event will run during the first half of the week and singles/doubles will run during the second half of the week.
The teams event will consist of 9 individual ties;

3 x Men's Doubles
3 x Women's Doubles
3 x Mixed Doubles

A maximum number of 6 players can be used per match and each player must play three individual ties within a match
For the teams event ONLY, one player may be allowed per team who is under the minimum age of a particular age bracket if their date of birth is within 18 months of said age bracket
Participants may only enter a maximum of 4 individual (singles/doubles) events
Rules
The competition will be conducted under Badminton World Federation (BWF) rules.
Teams Event Format
Minimum squad size: 6 (3 Female, 3 Male)
Maximum squad size: 8
2022 Australian Masters Games – Perth
Badminton Specific Enquiries
Simon Oaten
Badminton SA
President
0434 624 810
oatense@gmail.com
2023 Australian Masters Games General Enquiries
Stay up to date
Receive all the latest Australian Masters Games news delivered direct to your inbox.