"Why? Because we can!" Soccer veterans still Alive 'n' Kicking despite loss
Date published: October 8, 2019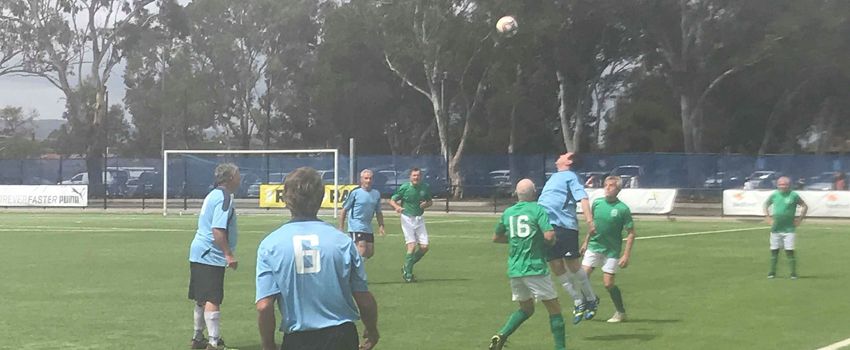 They may have lost the opening match of their Australian Masters Games run, but the enthusiastic "Alive 'n' Kicking" team are optimistic about their chances of success this year.
Based around the North Shore of Sydney, the team is made up of a handful of Masters Games Veterans, mostly ex-pats from the UK.  The men play together in a 60+ competition back home. The addition of 60+ soccer category for the first time at the 2019 Australian Masters Games, made the decision to play a no-brainer. Almost all have played at the Masters before, but this is their first time at the Games together as a team.
The team took on the Camden Hasbeens at the VALO Football Centre in Angle Park today, going down one-nil thanks to a penalty. The game was tight throughout, with each team having their moments of controlled possession, but both defences holding firm to stop coordinated attacks.
Alive 'n' Kicking captain Brian Moran was in good spirits after the game, although he did describe the penalty which handed Camden the win as, "dubious".
This is Moran's Eighth time competing in a Masters Games competition, and when asked why he keeps coming back, he replied simply, "because I can!"
That attitude permeates through the team, who play the game hard, but in good spirits.
"I'll play until a smart doctor tells me otherwise", said Moran, although he does joke that a 'smart doctor' is just any doctor who will allow him to stay on the pitch. The skipper was in fine form today, making plenty of plays from the back of the field with his lethal left foot.
Despite the narrow loss today, the team remains hopeful of registering a medal in the competition, despite the heavy workload of the games with four games over two days.
"The premier league guys complain when they get two games in a week!" quipped a passing team-mate as Moran was going through the schedule.
There's certainly no time to rest at the Masters Games, but Moran and the team are looking forward to the challenge of their further matches, and the memories to be made playing together as a group of friends.
Stay up to date
Receive all the latest Australian Masters Games news delivered direct to your inbox.