Western Australians on court at the Australian Masters Games
Date published: October 9, 2019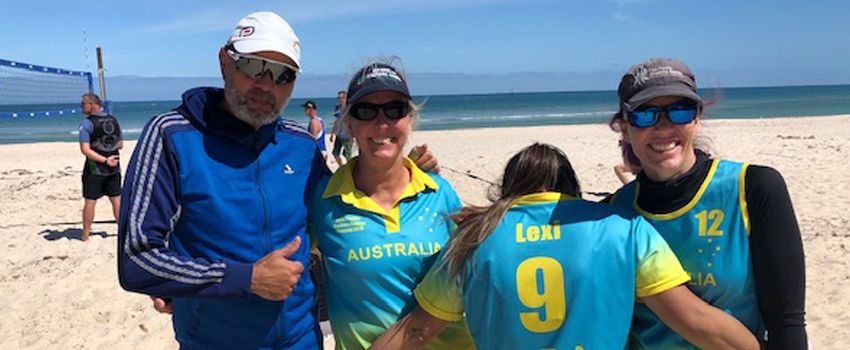 Travelling from Perth, volleyballer Cezanne Ezard (second from the left) and her teammates have made their way across the Nullarbor to soak up the 17th Australian Masters Games action.
Playing in four or five games every day, they also plan to attend the various social events organised on the Games event calendar, including tonight's mid-week party – Immaculate Madonna.
"It's been really fun, well organised, a good level of competition, and it's as much about the games as it is about the socialising," Ezard said with a smile on her face.
The group play together in Perth for different clubs as well as socially and formed the travelling contingent specifically for the Games in Adelaide.
"As a group, we rotate through two mixed teams, two ladies' and a men's team," Ezard said.
It's not their first time competing in the Australian Masters Games, the group regularly come together to compete in the national competition.
Having already competed at the indoor volleyball, today they commenced the beach volleyball at Glenelg – which continues through until Saturday.
Tonight's Immaculate Madonna, one of the very best tributes to the queen of pop, will perform at the Adelaide Convention Centre. The perfect night to celebrate your wins, your losses and your involvement – doors open 6pm, for 7pm start time.
Stay up to date
Receive all the latest Australian Masters Games news delivered direct to your inbox.