Thirteen-time champion Jenny Holborn and the Bendigo Dragons win gold at the Australian Masters Games
Date published: October 11, 2019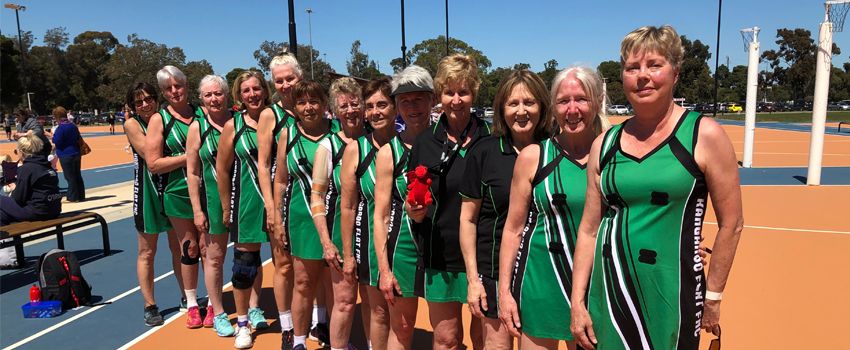 The Bendigo Dragons travelled from Victoria to claim gold in the 60+ netball competition at the Australian Masters Games. It's a familiar trip for the veteran team, having competed in every Australian Masters Games since 2000 and amassing a large collection of medals.
Today's gold marked team captain, Jenny Holborn's 13th individual medal since 1992.
"The thing we love most about the Games is the friendships you make and the time you spend together having fun playing the sport we all love," Holborn said.
The team was keen to redeem the silver medal they captured at the Games in 2017 in Tasmania and hungry to add another gold to the collection.
After capturing gold once again the team joked about how they hope to spend the rest of their well-earned holiday down time in Adelaide.
"We are searching Adelaide for the best barista and coffee available, as well as a little bit of the bubbly to celebrate. Anywhere with coffee or wine," Added Symes, who stated so far, the best they've had was First Pour on Melbourne Street.
The Dragons are already talking about the next Games in 2021 and going for gold in a new category, 65+.
"We'll see how we go next time round. We'll be moving up to the 65+ division so it will be a bit different again," Holborn said.
The 17th Australian Masters Games netball competition concluded today after five days of action-packed games at the SA United Church Netball Association – City Courts.
Stay up to date
Receive all the latest Australian Masters Games news delivered direct to your inbox.