The TJ Seahawks may need to buy some extra luggage on the way back to Singapore with the amount of medals they won
Date published: October 12, 2019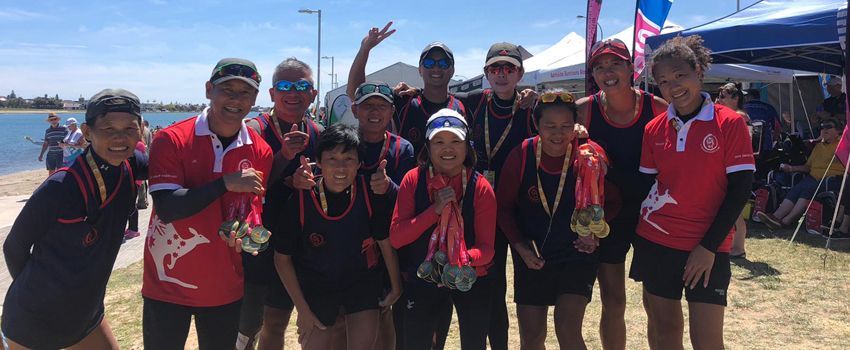 The TJ Seahawks have wiped the mixed category clean as they take out top honours at dragon boating.
Team manager Lee Kiat was modest speaking about the team's success after winning gold in multiple mixed classes.
"We have travelled from Singapore and we had no idea what the conditions would be like when we arrived or how we would do."
"The conditions in Singapore are very different, we normally race in a reservoir and there is minimal wind, so to come out here and battle saltwater and wind was a little challenging, but it's been great," Kiat laughed.
For many members of the team it is their first time traveling to Australia, Kiat admitted that it took some for the team to adjust.
"This was the team's first Australian Masters Games, we participated in pan pacific Masters Games last year and had a wonderful time."
"We arrived on Monday and it was quite cold," Kiat admitted.
"We are staying down in Port Adelaide and it has been a great space for us to climatise and to condition our bodies. We went for a run along the dock at 6am, we were shivering it was that cold."
The TJ Seahawks were established in 1982 in Singapore and have a rich history.
"It was formed by a bunch of ex-professional rowers and they were passionate about the sport but wanted to continue in the sport somehow," Kiat said.
"Many of us have been competing most of, if not all of our lives. We have noticed that much of the younger generation has embraced the sport so we are really excited about that and hopefully it keeps the sport alive."
Stay up to date
Receive all the latest Australian Masters Games news delivered direct to your inbox.