The "Myths and Legends" certainly live up to their name
Date published: October 9, 2019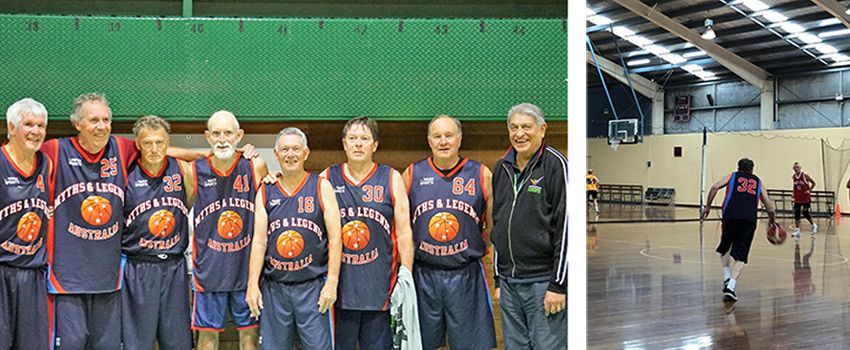 Taking on Unis-ex at Wayville on day 4 of competition, Myths and Legends met their match on court.
One standout was number 32, Ken Burbridge, while many of the men were donning the latest Lebron shoes or classic Jordans – Burbridge kept it old school with a pair of low top black Converses.
"When I started playing basketball, the guy who was responsible for getting the licensing for Converse over here, was actually the person to pick me up and take me to my first game, but because I was so excited, I actually left them at the front door." Burbridge laughed.
Burbridge started his career in a 'small gym' as he referred to it.
"It wasn't a big space but I definitely learnt my fundamental hand skills there," Burbridge said.
Beginning his athletic career in junior footy, Burbridge knew that it wasn't the sport for him.
"One game, coach didn't play me right, so it saw me not touch the ball for three quarters. I finally worked up the courage and asked him to change the positions around," Burbridge stated "I went on to kick 4 goals and give off two handballs but it wasn't enough."
"I remember telling everyone I was quitting, they begged me not to, but I was just a bit sick of it."
Burbridge had heard of a 14 and under competition down at his local youth club and entered to play. His performance led to him getting picked in the under 16 state team as vice-captain with Australian basketball legend Ken Watson's son leading the way as captain.
From there Burbridge worked his way up through the ranks, playing in under 17's, 18's and multiple junior championships.
"I was recruited by management at St Kilda Saints, they said we want you, so I transferred over to them and made the 1967 senior side and there I was playing alongside Lindsay Gaze."
Burbridge recounted his time with the basketball legend saying he impressed him one game coming off the bench.
"We were playing against the equivalent of Stephan Curry this one game, no one could stop him he was a great shooter," Burbridge stated.
"We were approaching half time and our best defence guy Ken Cole already had 4 fouls, I remember vividly him saying to coach that it was no worries he could restrain himself.
"We get back on court and his next foul happened in slow motion for me, the other team knew how many fouls he had and played it to their advantage and ultimately got him out of the game.
"Coach Watson looks down the bench, I was second to last on the end and actually took no notice when he was calling for me to come on. Gaze took off like a rocket and we ended up winning the game."
Spending over 4 decades in the sport, Burbridge has seen some drastic changes to the game, one being the increase in 3-point shooting.
"If they had that shot back when I could have learnt to hit it, I think I would have scored 100 points a game." Burbridge laughed.
Stay up to date
Receive all the latest Australian Masters Games news delivered direct to your inbox.