Pipped at the finish line – Kochie claims silver in indoor rowing
Date published: October 8, 2019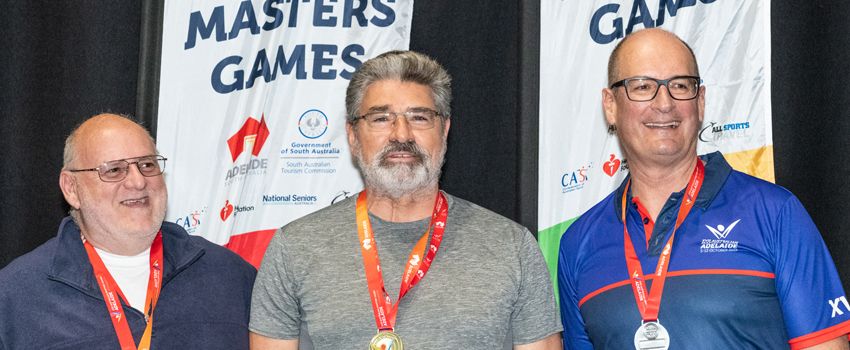 Pipped at the finish line by .1 of a second, David Koch – Games ambassador, co-host of Sunrise and Chairman of the Port Adelaide Football Club, claimed silver in the men's 60 – 64, 500m indoor rowing, clocking in at 1.33.4 just behind Jeffrey Price who took gold in 1.33.3.
"I thought I had the race and then with 10m to go, young Jeffrey – straight past me. It was a real cliff hanger," Koch said.
Kochie as he is popularly known, was appointed as the Ambassador for the 17th Australian Masters Games earlier in the year and once onsite, he happily posed for photographs with his fellow masters competitors and took part in the camaraderie of the Games.
"I've loved it here at the Australian Masters Games, I'm so surprised how enthusiastic everyone is – how welcoming, it's got a real buzz about it and a great sense of community. Everyone's here to have fun and yes compete, but it's all about supporting each other."
Although not a rower, Koch hits the gym regularly and uses the indoor rower in his weekly fitness regime.
"I go to a trainer twice a week, on Tuesdays and Thursdays, everyone knows not to book anything in for me during those times. And then I try and get a cardio session, at least one – hopefully two, outside of that a week. Keeping fit can change your life, it changed mine – it made it easier for me as a shift worker to get up earlier and cope with all the hours," said Koch.
Day four of competition continued at venues around Adelaide, with a number of sports wrapping up including tennis, track and field, fencing and boxing. Still plenty of sport action to come with football, figure skating, sailing, gymnastics, cycling, mountain bike riding and taekwondo, kicking off over the coming days.
Stay up to date
Receive all the latest Australian Masters Games news delivered direct to your inbox.