Petanque competitors gather from all over for the Australian Masters Games
Date published: October 10, 2019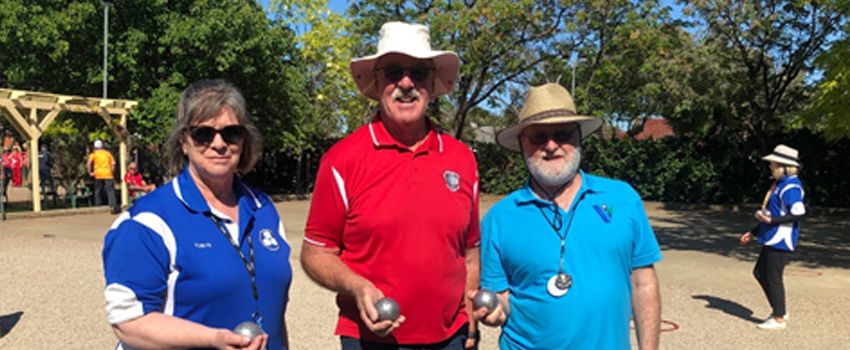 Pictured: Robyn Cooper (ACT), David Beer (NZ), and Terry Hunter (VIC)
Petanque finished up its competition today at Prospect Petanque Club yesterday and participants travelled from all over, including David Beer, who travelled with his petanque partners Art Vernon and Ellis Maguigan all the way from New Zealand.
Eighty-two-year-old Vernon holds the distinction of being the oldest participant in the Petanque competition, however despite his age he captured the gold in the men's doubles with Beer.
When asked what they were enjoying the most about the Games all three responded it was the social side and general organisation of the Australian Masters Games.
"Everything is so organised and structured, you know where you're going and who you're playing, there is food, snacks and drinks, everything you could want," Beer said.
Capital Petanque is another team in the competition boasting fifteen competitors in the Games, they travelled from Canberra to join in the action.
They echoed similar sentiments to Beer and Vernon, enjoying the social side that comes with the Petanque tournament at this year's games.
"Obviously you love to win, but its more about fun and having a good time," Robyn Cooper of the Capital Petanque said.
"That's what the beauty is about petanque, you can compete at any age or skill level and play well."
Stay up to date
Receive all the latest Australian Masters Games news delivered direct to your inbox.