One Year to Go until Play Time in Perth
Date published: October 9, 2020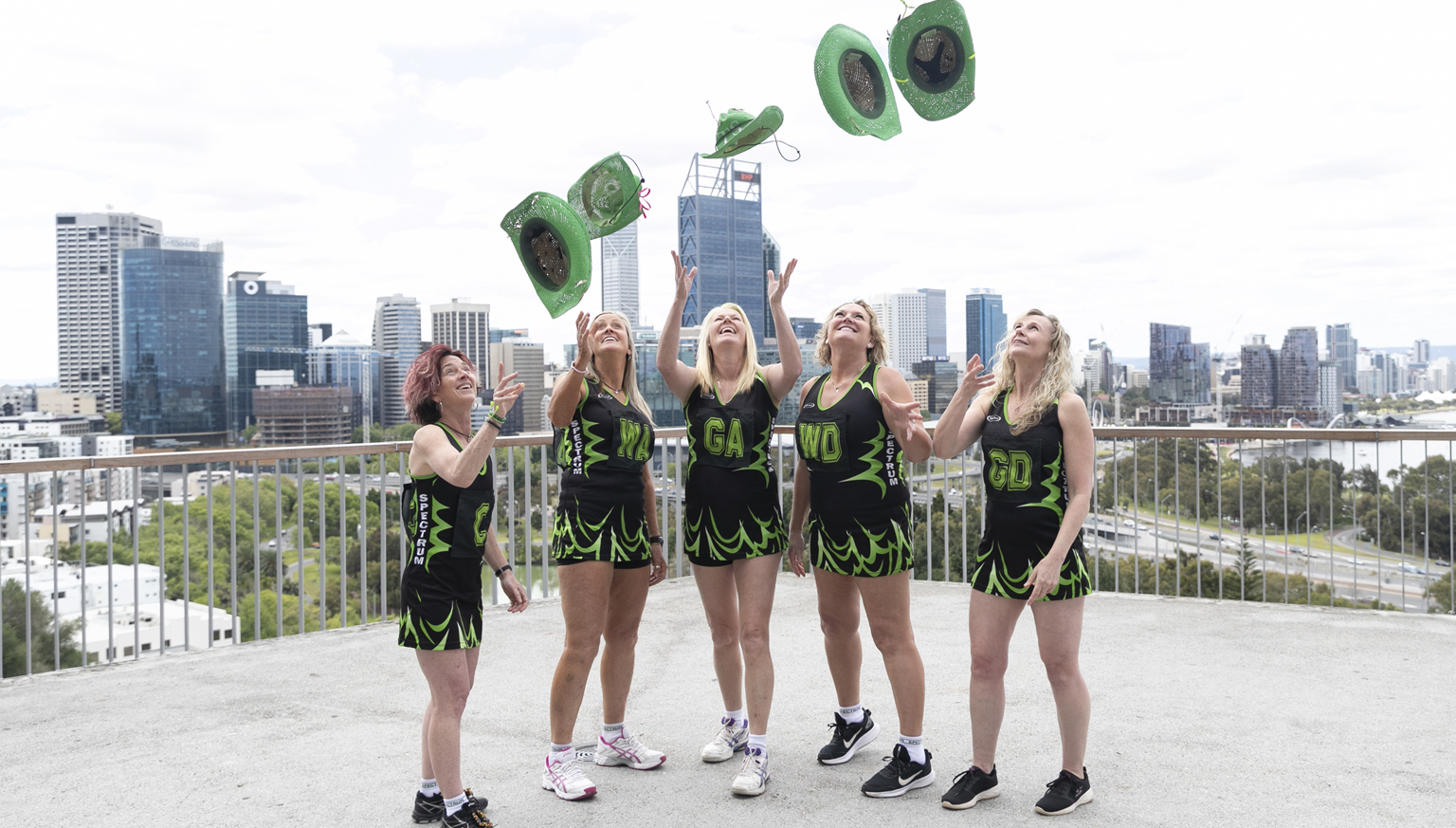 The countdown is on to "Play Time in Perth" with 8000+ weekend warriors set to head west next October for a festival of sport with the beautiful city of Perth as the playground.
The 2021 Australian Masters Games will take place from Saturday 9 October – Saturday 16 October 2021 and the Spectrum Netball Team was on hand in Perth today to mark the one-year-to-go milestone with representatives from more than 40 of the participating sports.
The Australian Masters Games is a mass participation event with a primary goal of encouraging physical activity in people over the age of 30. There are no qualification criteria aside from meeting the minimum age requirement, and with over 50 sports set to take place in 2021, there really is something for everyone.
Australian Masters Games general manager Kirsten Drower said participants from around Australia have a lot to look forward to off the back of a challenging 2020.
"We are planning an extensive sport program in October 2021. All the favourites will feature – dragon boating at Champion Lakes Regatta Centre, athletics at WA Athletics Stadium and softball at Mirabooka International Softball Stadium and we're also excited to announce a new racquet sport called padel has just been added to the Games program," said Kirsten.
And the Games participants will not only be running, jumping and throwing their way to good health at the Games, they will also be supporting the Heart Foundation as the Official Charity Partner of the 2021 Australian Masters Games inspiring others to get active.
"One of the primary aims of the Australian Masters Games is to encourage healthy active lifestyles for people who are over the age of 30, which aligns perfectly with our commitment to heart health via healthy eating and active living," Heart Foundation CEO, Adjunct Professor John Kelly, said.
"Physical inactivity is a key risk factor for heart disease, which continues to be the single leading cause of death in Australia. Currently, more than half of Australian adults are not active enough for good health.
"But the good news is that heart disease is largely preventable and being active and healthy eating can help control risk factors such as high blood pressure and being overweight.
"We are delighted to partner with the Australian Masters Games and look forward to seeing participants take care of their hearts by making longer-term changes to their lifestyles," Professor Kelly said.
The Australian Masters Games enable participants to get active, social and adventurous with the tag line "Play Time in Perth" extending beyond the sports fields to the vibrant city laneway bars and eateries and iconic tourism hot spots.
The Australian Masters Games is supported by the Western Australian Government, through Tourism Western Australia and planning for the event is taking place in line with the latest health advice.
Stay up to date
Receive all the latest Australian Masters Games news delivered direct to your inbox.