No end in sight for Jennings and McCabe
Date published: October 8, 2019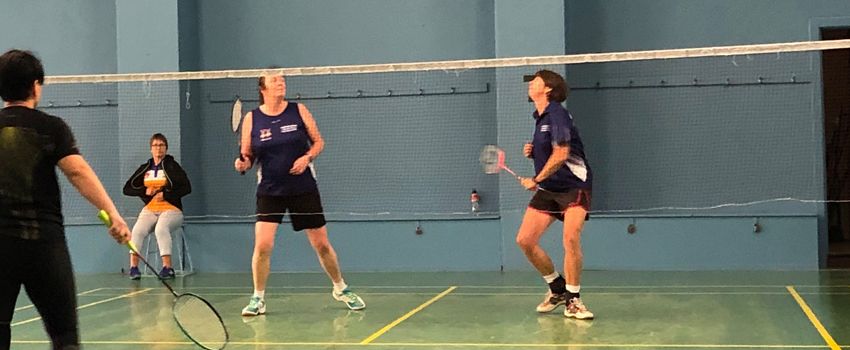 If there is one thing that is the common theme throughout these games, it is mateship.
Ann Jennings, originally from New Zealand but now calls Hobart home, and local Lynda McCabe state that the people around them makes them keep playing on.
"This is just fun; we play against some lovely people and it is great exercise," Jennings stated.
"We all have our different strengths, Lynda is good at exercising, I am not so much but this makes me run and I enjoy it."
Onto their third Masters Games now, the two ladies can see no end in sight.
"We played in Adelaide four years ago now and we had such a lovely time we decided to come back," Jennings stated.
Both ladies refer to themselves as veterans of the game with a smug smile on both their faces. Ann began playing in her early school days when her parents introduced her to the sport.
"Mum and Dad played it when I was little and I haven't stopped playing. You just work your way up through the ranks, I have had a lot of fun along the way."
McCabe also stated at school playing against one of her now teammates.
"It's funny actually, because our team are all over the place, I actually played against my teammate Jenny back when we were juniors and have been friends since we were 15," McCabe said with a smile.
Their teams stands out from the rest with some very professional looking shirts that have their last name and their hometown on their back,
"We thought we would look professional," Jennings laughed, "It's just for some fun."
Both ladies looked composed when they took the court and seemed poised in both good and bad moments throughout their match.
The ladies decided to only participate in team badminton this year as they wished to embraced the local sights.
"We decided to skip out on individuals this year to go on a wine tour," both ladies laughed.
"We just wanted to get some touristy things in before we all go our separate way at the end of the week. Every time we just seem to play badminton and head home so it will be nice to have a look around." Jennings said.
Stay up to date
Receive all the latest Australian Masters Games news delivered direct to your inbox.