"Netball is the glue that binds us together"
Date published: October 7, 2019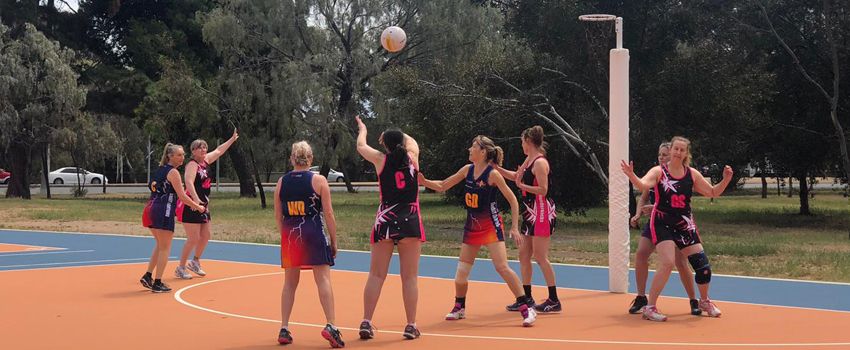 Don't be fooled by their stunning uniforms, the Sunset Lightning are out to win.
The girls have been playing on and off together for several years now, with their Goal Defender Karen Dangerfield admitting that competitions like the Masters Games are a great way for all the women to stay in contact.
"Being a part of tournaments like this along with other social events like the opening and closing ceremonies provides all of us with a great opportunity for us to dress up crazy and have the best time celebrating our passion for netball, it is like the glue that binds us together," Dangerfield said.
You don't have to wait long before seeing the team's chemistry play out on court, with the odd bad throw or missed goal, each one is met with a laugh and a pat on the back.
The team has had its fair share of struggles over the years with the team's defender Elle Cook fighting for her life only a short while ago.
"It has been two years since I picked up a netball. For the last 18 months I have been under so much treatment, and this time last year I nearly passed away. My battle with cancer was that bad," Cook said
While Cook admitted that she was a little apprehensive to playing, she did not look one bit out of place.
"Last year the girls went up to Alice Springs to play, and I was just in tears, I thought, and was also told that I could never play netball again to the amount of treatment I had received and along with all the complications I had," Cook reflected.
"But to be out here today with these girls is just amazing."
Cook acknowledged that her body is far from what it used to be, but knows that she can't win them all.
"We obviously don't go out there to lose, but it is funny because so many of us are still so competitive in our minds, our bodies just won't follow," She laughed.
"I think now I am so happy to be back playing that I am okay with letting a pass go here and there, rather than running to intercept and potentially rolling my ankle, I let myself hang back and watch as the play unfolds a little more."
The girls will compete for a spot in the finals at the end of the week at the city courts.
Stay up to date
Receive all the latest Australian Masters Games news delivered direct to your inbox.