National Seniors join the team
Date published: December 1, 2020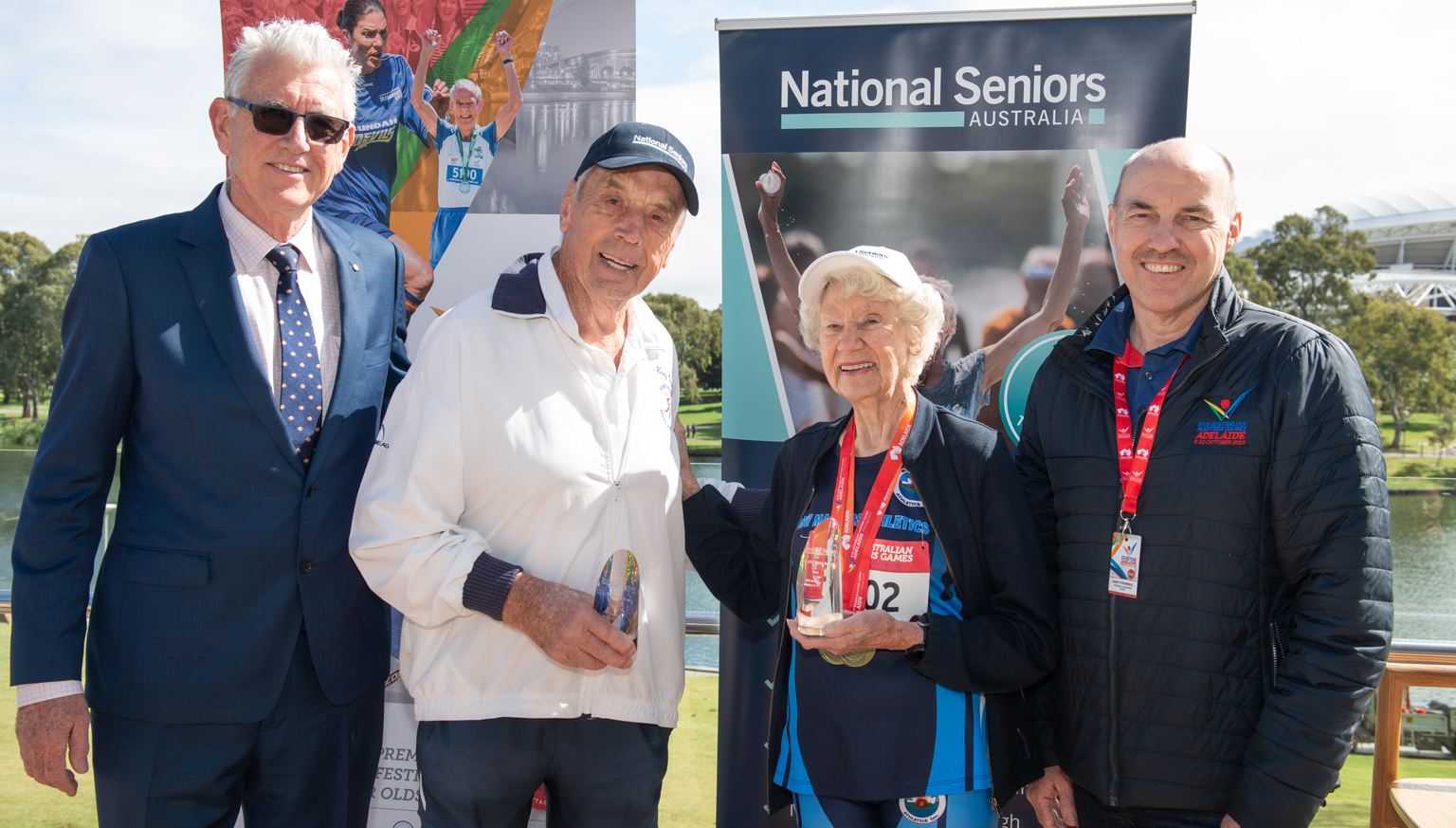 National Seniors Australia is continuing its relationship with the Australian Masters Games (AMG) as the "Healthy Ageing Partner" of the 2021 edition after a successful collaboration at the 2019 Games.
The organisations share a commitment to helping older Australians enjoy a healthy, socially connected later life.
AMG general manager Kirsten Drower said she was looking forward to further developing the partnership.
"National Seniors Australia shone the spotlight on some inspirational Australians at the last Games including ninety-two-year-old NSW world record holder in the race walk, Heather Lee, and we are looking forward to some new joint initiatives that will motivate and celebrate our Games participants as well as encourage others to join us for 'Play Time in Perth' next October," Kirsten said.
National Seniors Australia CEO, Professor John McCallum said, "We've heard a lot about the problems of ageing this year so it's time to engage with the positives! Our research shows that exercise, particularly challenging competitive sport, is a great health and social benefit in later life. So it's 'hats off' to the competitors for the Australian Master Games in Perth. We need to keep this activity going as we emerge from lockdowns and the constraints of the pandemic and make sports part of the 'new' normal. National Seniors are proud to support again our partners organising the Games."
National Seniors Australia is the leading independent, not-for-profit organisation committed to building a better later life for older Australians today, and for generations to come. National Seniors drives positive outcomes through research evidence-based advocacy in the media and at all levels of government.
The Australian Masters Games are owned by the Confederation of Australian Sport and conducted under their charter of 'Sport for All', providing participation and competition opportunities for people over the age of 30 years, regardless of background or ability, aimed at encouraging healthy active lifestyles and lifelong participation in sport. AMG's partnership with National Seniors Australia is borne out of the alliance between the Confederation of Australian Sport and National Seniors Australia.
Earlier this year a report by National Seniors and the Confederation of Australian Sport on older Australians and physical activity showed 60 per cent of respondents are not active enough to support healthy ageing and the biggest barrier is a lack of motivation.
Events such as the Australian Masters Games help overcome some of the barriers to regular exercise as identified in the report, with the commitment and socialising associated with joining a team and/or event acting as incentives to get out of the house and get active.
Read the full report here https://nationalseniors.com.au/news/latest/jumping-the-hurdles-to-exercise-and-activity 
Stay up to date
Receive all the latest Australian Masters Games news delivered direct to your inbox.