Loraine Baron is ready to hit the ground running
Date published: October 4, 2019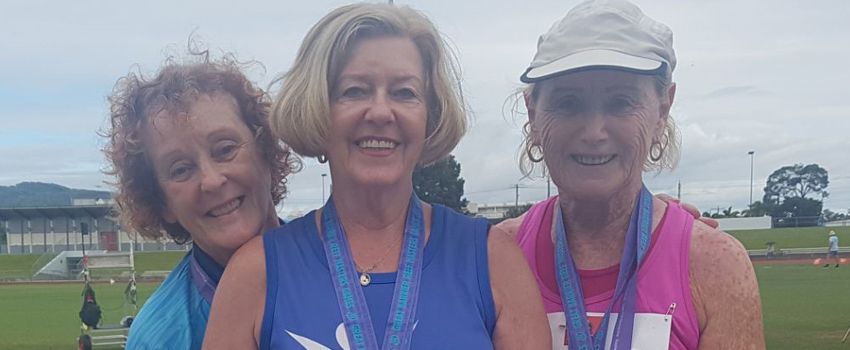 Australian Masters Games veteran Loraine Baron (middle) is ready to embark on her eighth Masters tour.
The 70-year-old Mount Gambier resident has no interest in slowing down when it comes to her beloved athletics.
"When I turned fifty, my two boys were off my hands and I knew that there was something that I wanted to do, but I wasn't quite sure what it was," Baron said.
"In late 1999 I heard some ladies on the radio talking about the Games and their experience and I thought, that's what I want to do!
"I tracked those ladies down, and funnily enough they became my best friends, one day inviting me along to one of their trainings."
In her 20 years of competing, Baron has dipped into many different areas of athletics, this year focusing on sprints including the 60m, 100m, 200m and the discus. In previous years she could be found in other throwing events and at the long jump and triple jump pits.
However, at the last Games in Tasmania, Baron suffered a fall whilst competing in the long jump competition.
"I fell quite heavily on my shoulder and ended up suffering a shoulder tear and was told that it was never going to repair, so it's only now that I have had to scale back my events."
Baron still finds herself at the track three times a week working on her sprints whilst also hitting the gym.
While the competitive side is one of the key reasons why Baron keeps coming back, she also acknowledges her love of travel and the friendships she has made in her time, also contribute.
"Facebook is the best thing in terms of keeping in touch with everyone. I have had so many messages from people I know asking me 'are you going to the games, what day will you be there'," Baron said.
"With events like this it's always nice to go with other people – especially interstate and international trips."
The athletics competition kicks off tomorrow and will run throughout the week.
Stay up to date
Receive all the latest Australian Masters Games news delivered direct to your inbox.