"Kendo is about body, sword and spirit"
Date published: October 5, 2019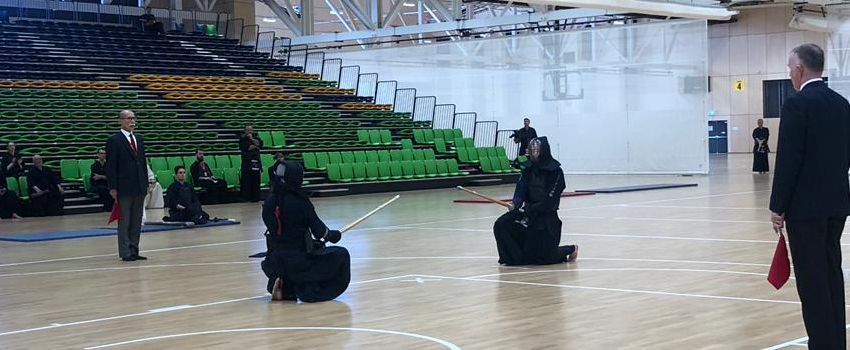 The Australian Masters Games has hit the ground running, with many sports beginning on the first day of competition, including Kendo, which is being held at the Games for the first time this year.
The St Clair Recreation Centre held the Kendo competition with over 40 participants putting on their set of Bogu.
Canberra resident, Yu-Chun Hung was ecstatic as she embarked on her first Masters Games for the sport she loves.
"I had definitely heard about the Games before, but because of the age restriction I could not enter the last set of Games," Hung said.
She has been playing Kendo for over four years and was first introduced by enrolling in a beginner's course at the University of Canberra.
"I just enrolled in it, I thought it would be interesting and now I am here at the Masters Games," Hung said with a smile on her face.
Hung acknowledges that the art of the sport is a thing of beauty.
"There is more to the game than hitting your opponent, it is about the way you move around, how you use your sword, how you conduct yourself on the court and then the intensity you bring to everything you do," Hung said.
While Kendo is a super physical sport, the mental and physiological side is just a gruelling – one competitor stated that in her downtime she likes to play instruments, this helps her unwind and find the beauty in Kendo when she takes the floor again.
For Hung, her warm up is a vital part to her game, if that is right then everything else will follow.
"Personally, making sure that my movements are right, and that my body and muscle memory is working as one as well," Hung said
While many first-time spectators are taken aback by the physicality of the game, Hung embraces it.
"You have to not be afraid to get hit, it is going to happen, you have to recognise that, that is also your opportunity to hit back," Hung said.
The warm down after a game is also a major part of the competition. For Hung the meditation and breathing exercises are a major part of her routine.
"Etiquette is a big part of Kendo, so before games begin, everybody lines up and bows to one another. That is often met with a breathing, meditating exercise, again we must make sure we do this after the match, Hung said.
"Being able to get in control of your breathing helps calm you down and takes your focus away from your competitor afterwards."
The individuals competition ran all day Saturday before teams will come together on Sunday starting at 9am at the St Clair recreation centre.
Stay up to date
Receive all the latest Australian Masters Games news delivered direct to your inbox.