June and Brian Hills are in the Games together
Date published: October 5, 2019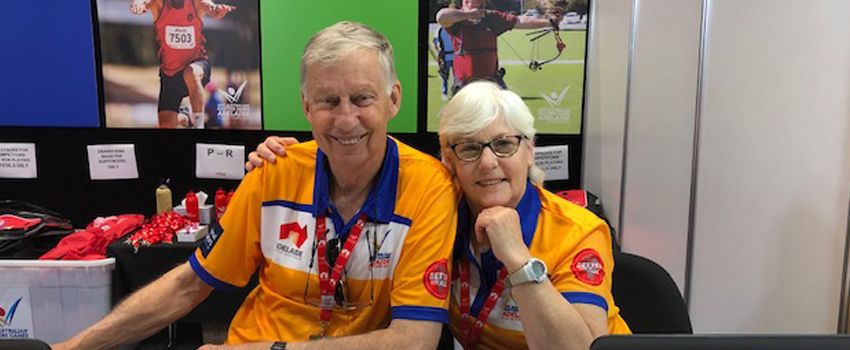 Partners June and Brian Hills have been volunteering at the Australian Masters Games for the last two editions and are back for their third this week.
"I volunteered at the last Australian Masters Games, and the one before that. I kept getting the emails and thought, 'oh yeah I'd do that again'," June said.
"We are retied and it's nice that my husband always does it with me."
The two Adelaide locals are stationed at the Accreditation Centre in the Games Village and are some of the first people that competitors meet, which is one of their favourite parts of volunteering.
"I like meeting a lot of people from all over the place," Brian said.
"There's a pretty good bunch of people volunteering here as well."
"And the staff are really nice," June added.
One of the perks of working at the Accreditation Centre is that the volunteers can watch the sports taking place in the Convention Centre, which is Boxing and Fencing for the first few days followed by Indoor Rowing and Taekwondo.
"I play darts, but I am not actually competing, but I wouldn't mind seeing them – whether I get down there or not depends on my schedule, but June is lucky she is working tomorrow and can watch boxing" Brian said.
The Games Village and Accreditation Centre is open throughout the week at the Adelaide Convention Centre.
Stay up to date
Receive all the latest Australian Masters Games news delivered direct to your inbox.