Jon Leighton OAM is enjoying the ride at the Games
Date published: October 11, 2019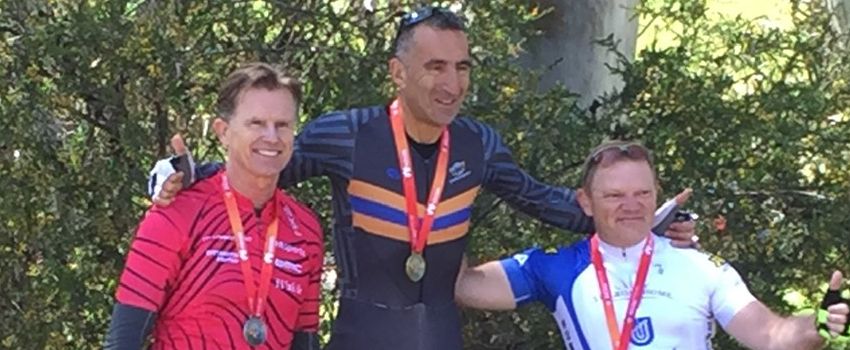 For Jon Leighton (centre), President of Bicycling NSW and Harlequin Cycling Club in Sydney, cycling isn't just about going for gold, but also enjoying the ride, which he has done over the last few days at the Australian Masters Games.
Leighton was recently awarded an Order of Australia in June for contributions to cycling and has been loving the Games camaraderie and inclusiveness.
"As President of Bicycle NSW we advocate for a better environment for all bicycle riders and it's great to see all bicycle riders of all ages and levels of fitness out riding their bikes," Leighton said.
"This is a great initiative – the Australian Masters Games – to go and both race and also participate with your friends and ride in this beautiful part of Australia."
Bicycle NSW organised a big group of all abilities to make the trip down for the Games.
"Probably my highlight was yesterday during the road race when one of our competitors, which we'd actually lapped, I came up behind him and gave him a little bit of encouragement," Leighton said.
"Afterwards we held the presentation until he came around, he's a great bloke – a guy called Craig, and he came up and said thank you for that. He really appreciated the encouragement, which I thought was terrific."
The cycling competition was held in the picturesque Barossa Valley over the last three days. Today wrapped up with the 1.23km criterium.
Stay up to date
Receive all the latest Australian Masters Games news delivered direct to your inbox.