Jeonju World Cup Stadium & Opening Ceremony for APMG 2023 Jeonbuk Korea
Date published: April 14, 2023
Jeonju World Cup Stadium has been selected as the venue for the Asia-Pacific Masters Games 2023 Jeonbuk Korea's Opening Ceremony, which is scheduled to be held on Saturday, May 13th of 2023.
To share a brief intro about the venue the Jeonju World Cup Stadium Construction began in February 1999 and opened on November 2001, to host the 2002 FIFA World Cup games in Korea.
The unique design of the venue was to introduce the concept of Dapgyo Nori, a traditional game in Korea, and it was designed to allow Jochoncheon Stream, which penetrates the stadium site, flows around the outskirts of the stadium, to flow around the gateways and allows the audience to cross the bridge over this gateways to enter the stadium. The roof and the stands divided into four parts are shaped by the image of Hapjukseon, a speciality of Jeonju, which represents the concept of a space open to everyone and gives the invitational image of Jeonju that welcomes athletes from all around the world.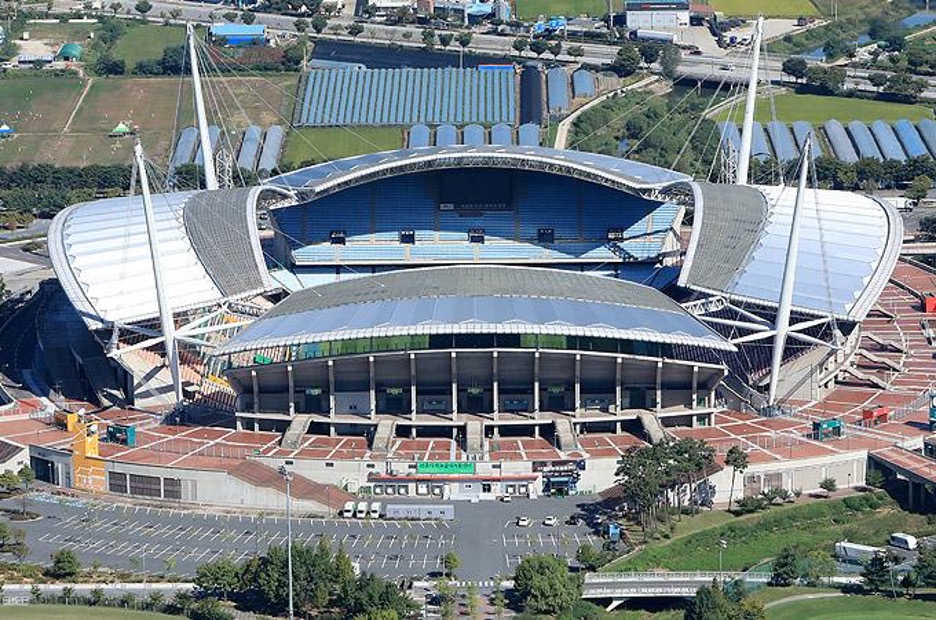 The fan-shaped roof symbolizes Sotdae, a pole wishing for well-being, protection, and a good harvest from the Korean tradition folklore, and the 12 tensile cables embody the 12 gayageum strings, a Korean folk instrument as well.
As, the stadium is also currently being used as the home stadium of Hyundai Motors Pro Football Club in Jeollabuk-do, Korea, we hope many of the APMG 2023 participants can get a glimpse of the world cup stadium atmosphere during the Opening Ceremony.
The theme of the Open Ceremony is "Happiness & Friendship through Sports" which is in the plan to host 10,000 participants from all around the world that will offer pre and post-celebration performances of the K-POP artists as well as Korean traditional performances.
But the central figures in the ceremony will be all of the participants entering the main field to represent themselves as the main hero of the APMG 2023 event so we invite you to join us for the upcoming sport-for-all festival that we are making sure that you will have unforgettable memories during your visit to Korea for more information about APMG please visit at our homepage (www.apmg2023.kr), and we look forward to seeing you soon in Korea.
Also, you can find our APMG 2023 theme song "The Way" and catch a glimpse of the Jeonju World Cup Stadium.
Stay up to date
Receive all the latest Australian Masters Games news delivered direct to your inbox.