Inspirational 92-year-old Heather Lee breaks world record at the Australian Masters Games
Date published: October 6, 2019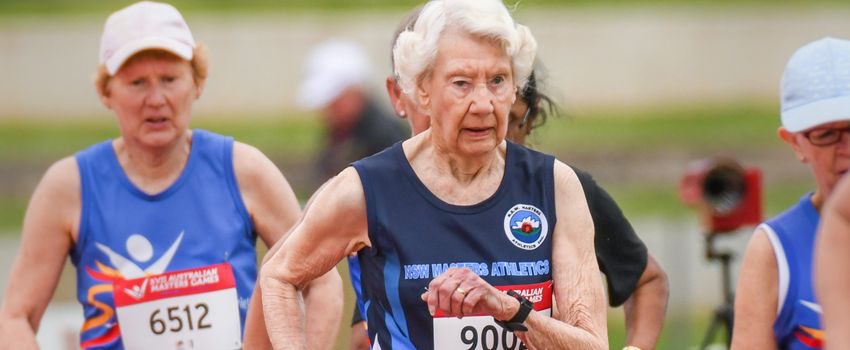 Ninety-two-year-old NSW Senior Australian of the year Heather Lee set a new world record* for the 90-94 age group in the 3000m racewalk clocking 24 minutes 52.25 seconds at the 17th Australian Masters Games in Adelaide.
"That is pretty good for me. It was good to get back on the track, I enjoy it " Lee said post-race.
Although this should be counted as the official world record with all the proper judges in place, Lee recorded a faster time in Brisbane (24:45.29) last year.
"I couldn't claim the one in Queensland. I didn't have judges on the track," Lee said.
With her birthday just a few weeks away, 17 November, the exercise enthusiast doesn't show any signs of slowing down heading into her 93rd year. She trains seriously three times a week with a personal trainer.
"I enjoy it and I want to do it for as long as I possibly can," Lee said.
"My mantra is 'diet, lifestyle and exercise, with an emphasis on the exercise' – especially as you get older because that is so extremely important and especially today with the ageing population coming on.
"I don't look at every birthday as a downside. I look at it as an achievement."
The Richmond, NSW local is the perfect example of the saying 'you're never too told to try'.
"I've got five world records and eight Australian records, and I've only been race walking since about 2012. I took it up when I was 84," Lee said with a grin on her face.
Lee is scheduled to compete in two more events during the Australian Masters Games this week – the 1500m racewalk tomorrow, Monday 7 October, and the 10km road walk on Friday 11 October. She holds the world's best for the 90-94 age group in the 1500m (12:09) and the world record for the 90-94 age group in the 10km (1:25.28.0).
*Subject to ratification by World Masters Athletics 
Stay up to date
Receive all the latest Australian Masters Games news delivered direct to your inbox.