Final over thriller decides cricket gold
Date published: October 12, 2019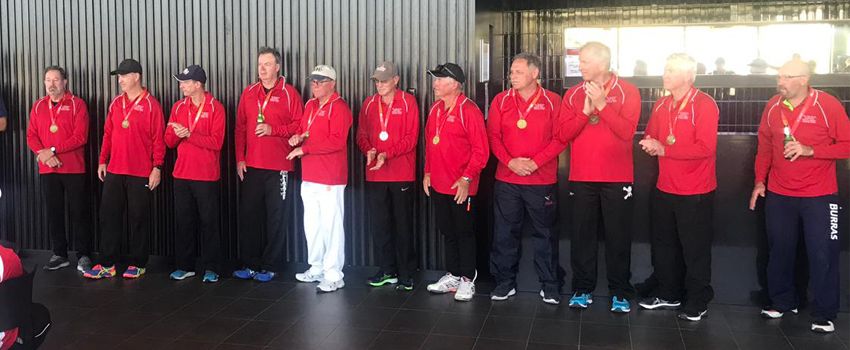 The Syndicate have taken out the gold medal in the men's 40+ cricket at the Australian Masters Games after a thrilling finish that saw the game go right down to the wire.
Playing against the Adelaide-based team, the Slingers, the Syndicate were set a target of 117 runs to win off their allotted 16 overs, after a handicap reduction to the Slingers original total of 171.
With three runs to win off the last over, a straight drive ricocheted off a Slingers fieldsman to level the score, before a similar shot beat the fielder to give the win to the Syndicate with just 2 balls to spare.
D. Walsh was the pick of the batsman for The Syndicate with 35, whilst Elton (44*), Mills (43*) and McDonald (41*) set the crease alight for the Slingers.
2/23 from Hannan was crucial for The Syndicate in reducing the runs scored by their opposition.
The Syndicate received their medals from SA Redbacks youngster Spencer Johnson and thanked the groundskeepers. They also praised the handicap system, which they credit to a number of incredibly close games in their time competing at Masters.
"We're a team with 9 guys over 60… I think today's match shows the system works."
Speaking before the game, the Slingers' Andrew Mills wasn't too concerned about the handicap working against them.
"Pretty simple cricket strategy really, we've got to hit more runs," Mills said.
Mills, in his fifth Australian Masters Games appearance, praised the spirit of the games.
"It's so much more fun than other cricket… you don't get this sort of sportsmanship in other forms of cricket."
The end of the competition was celebrated in good spirit by all at Karen Rolton Oval, with teammates and rivals coming together to share a drink and a sausage. Participants from all teams were clearly having a great time and showing the true spirit of the Games.
Stay up to date
Receive all the latest Australian Masters Games news delivered direct to your inbox.