Craig Watson and the Cardinals take out gold at the Games
Date published: October 7, 2019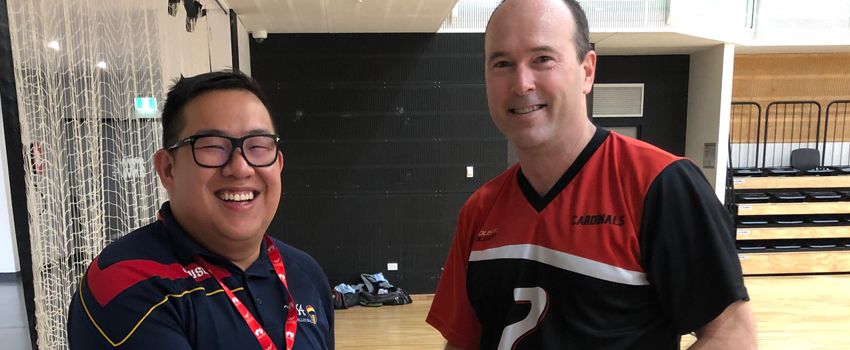 Craig Watson (right) is the President of Volleyball South Australia, but at the 17th Annual Australian Master Games he is just another competitor playing the sport he loves.
Competing in his fifth Australian Masters Game since 2002 Watson is excited to play against and with close friends and former foes.
"It's funny to go out there and have a laugh with some of these Victorians who I absolutely hated for the longest time, and now we're all just mates catching up and enjoying the sport we all love," Watson said.
Watson's team, The Cardinals, took out the men's gold after defeating a very game Horndogs team, the only team which managed to win a set against the exceptional Cardinals team.
The team is comprised of twenty South Australian's and a couple fill ins from Victoria, all with the aim of coming out to the Games to win and have fun doing it.
"The thing about volleyball is that it's a non-contact sport, so you've got guys that can go out there and play until they're in their eighties, you may lose your jump but you always keep the skills," Watson said.
Volleyball competition continues with women's and mixed team finals action on Tuesday, 7th October from the Arc Campbelltown.
Stay up to date
Receive all the latest Australian Masters Games news delivered direct to your inbox.