Carriage driving legend Isla Roberts leads the way in Adelaide
Date published: October 3, 2019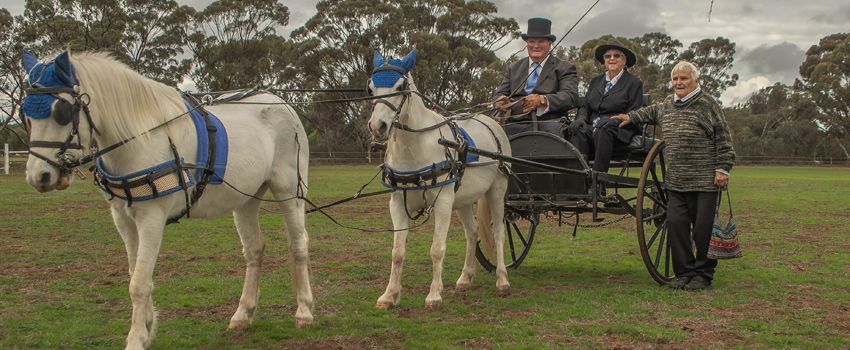 (Isla Roberts is standing on the far right, next to the carriage)
For Australian Masters Games carriage driving ambassador and Murray Bridge local, Isla Roberts, carriage driving is more than just a sport, it has been an integral part of her life. She has been involved with the sport for over 50 years but has been riding horses for as long as she can remember.
"I've always been involved I suppose, I would ride my horse to school and have been riding ever since," Roberts said.
When asked what her highlight has been she was quick to reply, "they've all been highlights!"
Now in her early 80's Roberts is still driving and training carriage ponies. She has always had a particular interest in nurturing and assisting newcomers to the sport and is responsible for many drivers taking up the sport and continuing their careers to a varied level of success.
Isla will be hosting guests and spectators throughout both days of the carriage driving competitions and assisting the Mayor of Murray Bridge with the medal presentations.
"I'm excited to attend the event as an observer and to see how everyone goes."
The Games kick off this Saturday 5 October  with the Games Opening Ceremony and the carriage driving competition is set to start on Sunday 6 October with the dessage followed by obstathon on Monday 7 October.
By Zac Barbaro, Media Intern
Stay up to date
Receive all the latest Australian Masters Games news delivered direct to your inbox.