Carol Richardson is ready to take the court for her 5th Masters Games
Date published: October 4, 2019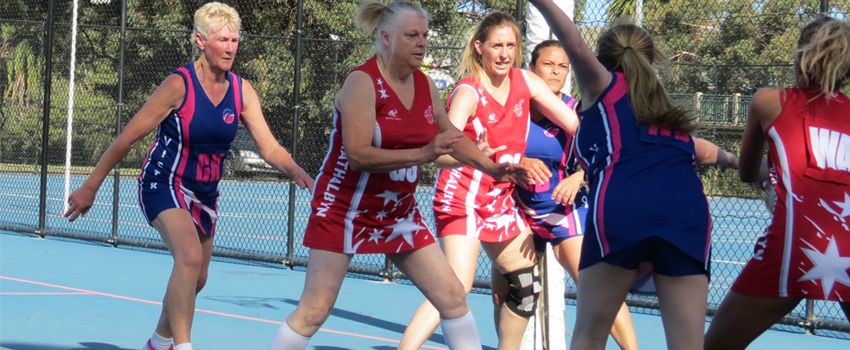 Australian Masters Games veteran Carol Richardson may be the oldest netballer at her Strathalbyn club, but that doesn't affect her love for the game.
She has played the sport her whole life, admitting that one of the only times she stopped was when she was pregnant.
"I played in a final while still in the early stages of my pregnancy as I loved the game so much, and when I came back, I would put my breast milk in bottles so I could play netball" Richardson laughed.
Her first Masters Games was in 2011 and she has participated in every Games since.
"We were fortunate enough to finish with a bronze medal that year, playing in a team with women from Queensland, New South Wales and South Australia. This introduced me to many people from different cities and cultures, and it was a great way of making new friends," Richardson said.
Richardson used to play four times a week when she lived in Adelaide, "I was working shift work, if work didn't fit in with my netball schedule, I would swap shifts around so I could play."
Since moving to Strathalbyn 20 years ago, Richardson has become an integral member of her club, umpiring games, taking photographs and setting up presentation nights. While Richardson's off field efforts are nothing short of spectacular, it's her infamous uniform that has left a mark on the Great Southern League.
Richardson acknowledges that her 'old school' approach to the game often catches the opponent off guard, Richardson sports high socks and a one-handed shot.
"I'm one of the only people that shoot one handed, the only other person I have met that can do that was a lady in New Zealand," Richardson said.
As for the high sock look, Richardson stated that's how teams remember her.
"When I was younger, long socks were a part of the uniform and I just kept it after all this time. If there is ever a time that I don't take the court, the opposition asks my teammates 'where's long-socks?', this makes me feel really special as they love to compete against me but also have that respect as a player," Richardson said.
"When I was team manager for my son's football team, the boys asked what the go was with the socks, I told them it was because I didn't shave my legs! You can imagine the response I got from that."
Over the next 12 months, Richardson has a very busy netball schedule as she will be attending the World Cup in Hawaii next year.
"I was asked by a New Zealand player that I met in 2017 if anyone was interested in heading over and playing. I thought it would be a great opportunity as I have never been to Hawaii. Originally, I was going to fly over, compete and come back. But after talking to a few people they thought I was mad for not staying longer, so a week turned into two, then three and now I am heading over for six weeks, and will tour a bit of America as well," she said.
As for the Masters Games, Richardson can't wait to get out there with other players from the Great Southern League.
"We all play against each other in the regular season, so to be able to get out there and be able to play with each other will be a lot of fun."
Stay up to date
Receive all the latest Australian Masters Games news delivered direct to your inbox.