Camira Amigos dominate opponents to claim gold
Date published: October 12, 2019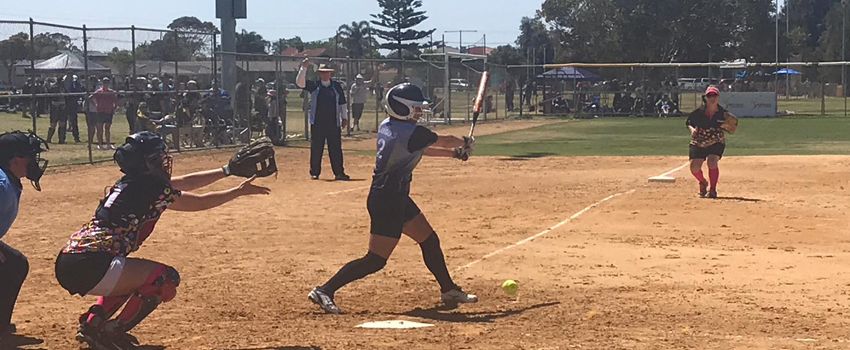 After playing each other twice in the competition so far, the ledger stood at one-all between the Camira Amigos and the Allsorts heading into the 35+ competitive softball gold medal match.
A packed crowd at Diamond Sports park were in attendance for the final match, but anyone expecting a tight game was in for a shock.
The Amigos dominated from start to finish, scoring consistently and pitching perfectly to win the game 13-0 after three innings.
The pitchers for the Amigos were unhittable, as the Allsorts batters struggled to connect and clear the infield. The Amigos were also strong in the field, working together as a unit to make a number of strong saves and catches.
With the bat, it was a case of teamwork and running. Singles and doubles kept the bases busy for The Amigos and the team scored heavily by securing RBI's (runs batted in) rather than hitting home runs.
The Amigos were clearly ecstatic after their win, none more so than Kylie "Brewster" Bruce, celebrating on crutches in the dugout.
Brewster, the regular catcher for Camira Amigos was injured in the team's Monday match, and missed most of the competition.
When asked how the team's win made her feel, Brewster had one word, "stoked."
For Brewster, in her second Masters Games appearance, the highlight of the experience was, "hanging around with these girls, it's been good fun."
Softball is one of the highest profile sports at the Games, with a full camera and commentary team streaming the match and a big crowd in attendance.
The Amigos weren't used to being part of such a big event, but they certainly rose to the challenge, and will take home some well-deserved gold medals as a result.
Stay up to date
Receive all the latest Australian Masters Games news delivered direct to your inbox.