'Brightest day, blackest night': Cairns Stingers find the fun in competition
Date published: October 9, 2019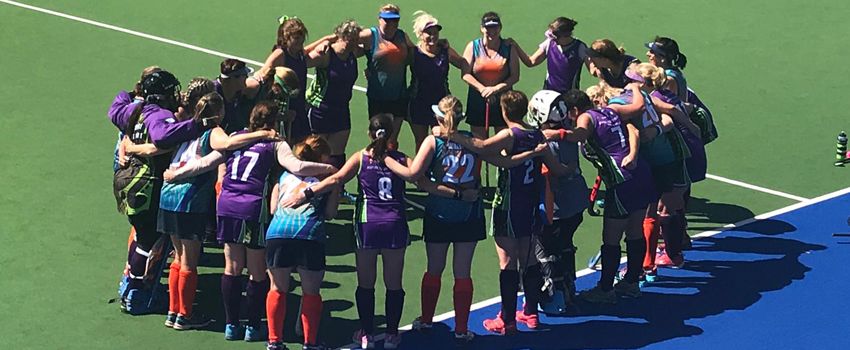 The Cairns Stingers are here with great expectations for themselves. After taking out the gold medal at least year's Pan Pacific Masters Games on the Gold Coast, the team has gotten off to a winning start in the 45+/50+ category of the Australian Masters Games.
"We want backup gold" said Stingers player Barbie Simmons after the game, and if they maintain their form from today they're certainly in for a good chance.
The Stingers' match this morning against the Mildura Sunnies was looking fairly even at 2-1 in the third quarter, but a five-minute surge of attacking hockey saw the Stingers register 2 goals in quick succession, breaking the game open.
The Stingers dominated play in the second half, with the Sunnies forwards spending more time chatting to the Stingers goalkeeper than launching attacks.
After the game, Stingers skipper Judy Bugler was spotted warming down with a Green Lantern cape hanging proudly from her shoulders. It's her birthday today, but that's not the reason for the costume.
Bulger explained that the most notable player from a game is given a ridiculous item to wear for 24 hours, or until the next game.
"I'm very lucky today, we have two games so I've got it for a very short period," she laughed.
The Green Lantern's iconic catchphrase of, "In brightest day, in blackest night" is very apt for a team that clearly competes hard in every competition they're a part of.
It's just one of the many ways in which the Stingers ensure that they never let the pursuit of success get in the way of their enjoyment of the game.
After today's game, the opposition Sunnies called the Stingers in to a huddle and gave three cheers to both teams.
"It's a friendly game, and they just said, 'come on girls get in the circle with us' which was fun," said Bulger.
The Stingers have competed in a total of 15 Masters Games across state, national and international comps. They keep coming back for the mix of competitive hockey and social opportunities.
"It's at a good level" said Bulger, "and you make friends from different states and from different places."
As for whether the extreme workload of the games schedule was taking a toll on the team, Barbie quipped "we'll tell you this afternoon."
It'll take a strong team to beat the Stingers, but with plenty of great competition going on at the beautiful State Hockey Centre, there'll be no shortage of superheroes on and off the field.
Stay up to date
Receive all the latest Australian Masters Games news delivered direct to your inbox.