Australian Masters Games Opening Ceremony
Date published: October 6, 2023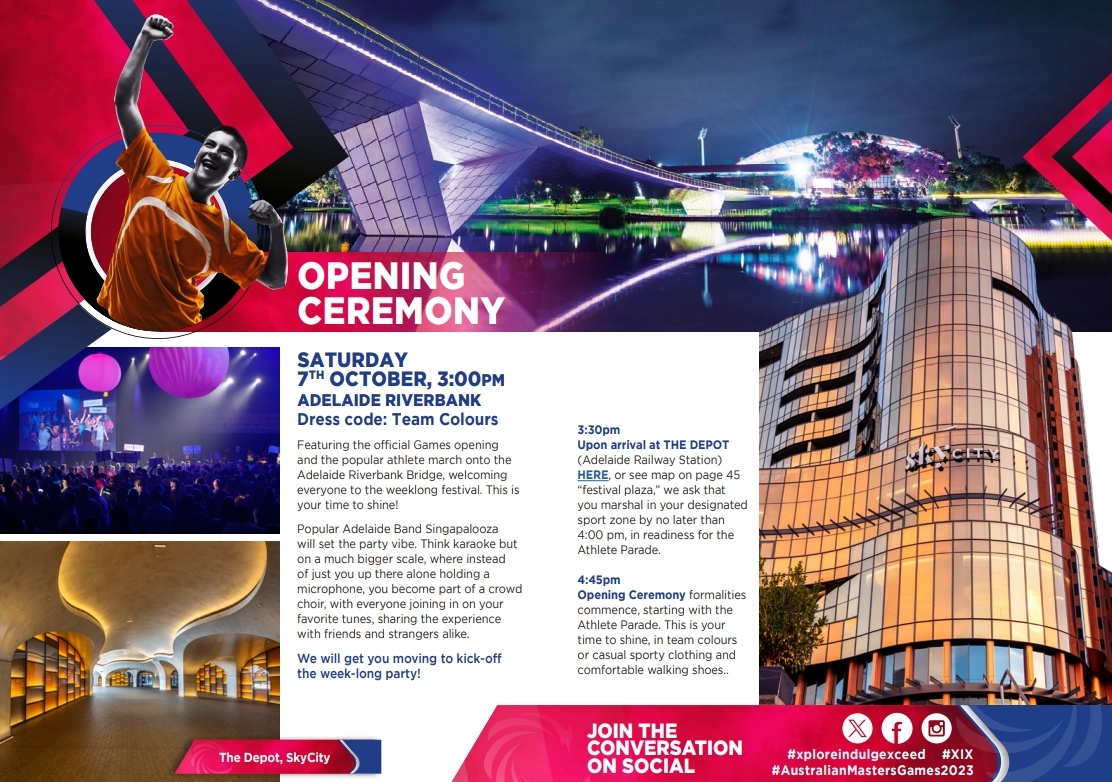 Featuring the official Games opening and the popular athlete march onto the Adelaide Riverbank Bridge, welcoming everyone to the weeklong festival. This is your time to shine!
Popular Adelaide Band Singapalooza will set the party vibe. Think karaoke but on a much bigger scale, where instead of just you up there alone holding a microphone, you become part of a crowd
choir, with everyone joining in on your favorite tunes, sharing the experience with friends and strangers alike.
We will get you moving to kick-off the week-long party!
Sat October 7 – 2023 AMG Opening Ceremony
3.30 pm – Meet in SkyCity Village – Gates open from 3:30 – Festival Plaza, King William Street, Adelaide (Athletes, officials and supporters welcome)
4:00 pm – SkyCity Village Marquee Bar opens; Athlete call to action – assemble in Village under individual sport signs
5.00 pm – Athlete March, commences from SkyCity Village with Music, Entertainment and Shout Outs
6:00 pm – Athlete Bridge Photo
6:10 pm – Athletes march back to SkyCity Village
6:10 pm – Food / Drinks / Live Music and Entertainment
10.00pm – SkyCity Village Winds Up, After Party at The District SkyCity Entertainment complex.
Wear your team kit or sporty clothes, comfortable walking shoes and bring accreditation, hat and sunscreen and be part of this amazing AMG tradition.
Stay up to date
Receive all the latest Australian Masters Games news delivered direct to your inbox.