2021 Medal Designs Revealed
Date published: June 15, 2021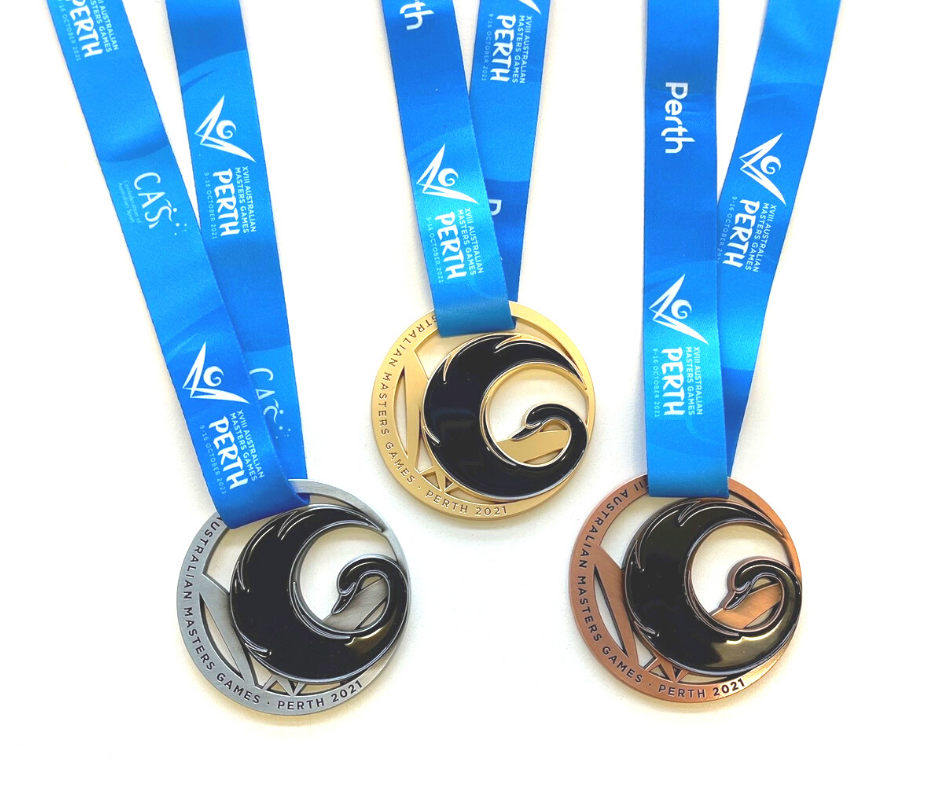 Drum roll…we are excited to share the official medal designs for the 2021 Australian Masters Games!
Featuring Western Australia's iconic black swan, together with unique cut out elements of the Australian Masters Games logo, this year's winners will take home a piece of Perth, alongside special memories of the Games.
Revealing the medals this week was an all-star West Australian basketball line-up, with the return of the 1982 Perth Wildcats team. The retired team is set for a resounding comeback, competing in basketball at this year's Games with two additional players, Ernie Dingo and Dr Richard Barry Walley OAM.
Mike Ellis, Captain of the retired Perth Wildcats team, said that in addition to competing for the gold medal, the team has plans to replicate the original 1982 Wildcats uniform for the special event.
"We're looking forward to joining in on the fun and celebrations at this year's Australian Masters Games, in our home city. Heritage has always been really important to the team, and we're delighted to reveal the custom medals that truly symbolise Perth. We see this year's event as a week-long celebration of our heritage and history." said Mike.
The team has secured eight of the 1982 team's original players to take part in the Games, as well as the original Perth Wildcats assistant coach who'll be training the team. Among the players returning is legend Mike Ellis, who played for the Perth Wildcats for 10 years.
The company behind the medals, Epic Medals, was borne out of the Gold Coast Commonwealth Games medal ceremonies team and have been responsible for designing and producing medals for countless high profile sporting events in Australia.
2021 Australian Masters Games General Manager Kirsten Drower said the return of the Perth Wildcats adds to the exciting line-up of sport at this year's Games. "We're delighted to be welcoming these local legends back to the court for this year's event. And what a unique opportunity for basketball participants to compete against the all-star team! We encourage other weekend warriors to connect with past and present teammates and join us for a chance to win gold at the Games this October." said Kirsten.
Stay up to date
Receive all the latest Australian Masters Games news delivered direct to your inbox.