Taekwondo
Overview
DATES
Saturday 9 October 2021
TIMES
8.00am– 8.45pm (registration and weigh-in)
9.00am – 3.00pm (competition)
Games Entry Fee
$115 per person or $105 per person for people aged 70+
(the above entry fees will increase to $145 and $135 respectively as at 31 July 2021)
Please note: All transactions are subject to a PayPal charge (1.5% of total amount due +$0.30).
Further details available in the Games Entry Terms & Conditions.
Sport Entry Fee
$70 per person
$20 per additional event entered
Last Updated: 2/12/2020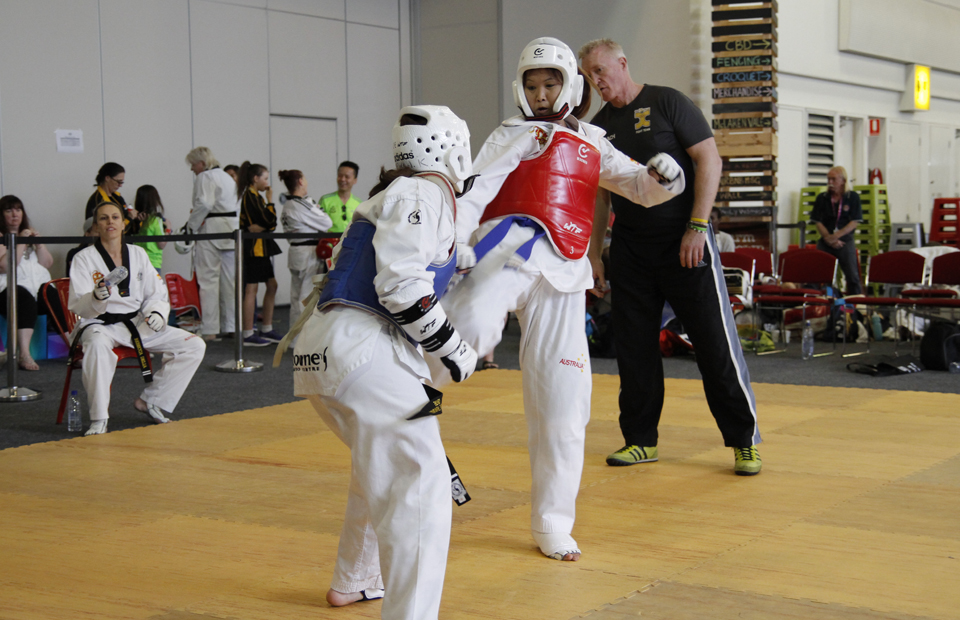 ENTER TAEKWONDO NOW!
Age Requirements
Age determined at 31 December 2021
Minimum age 30 years
Age Groups
Individual Poomsae: 30-40, 41-50, 51-60, 61-65, 66+
Pairs and teams mixed any gender: 30+
Divisions & Events
WT Poomsae – Individual
WT Poomsae – Pairs
WT Poomsae – Teams
Self Defence Demo – 2 persons
WT Sparring
Weight Divisions
Men: Under 60kg, 60-69kg, 70-79kg, 80-89kg, 90+kg
Women: Under 55kg, 55-65kg, 66-74kg, 75+kg
Stirling Leisure Centre
173 Gildercliffe St, Scarborough Western Australia 6019
Additional Information
Sparring minimum 2 persons per division (divisions can be mixed Yellow/Blue/Red/Black etc or weight divisions joined)
All participants must bring Games accreditation and ID for registration and weigh-in
Competitors must wear full dobok, all sparring will be electronic so Daedo E Foot to be worn
Shin, arm, head and mouth guards are compulsory
Hogus will be provided
Rules
All rules will be under the guidelines of World Taekwondo.
2019 Australian Masters Games – Adelaide
2021 Australian Masters Games Enquiries
Click Here
Stay up to date
Receive all the latest Australian Masters Games news delivered direct to your inbox.