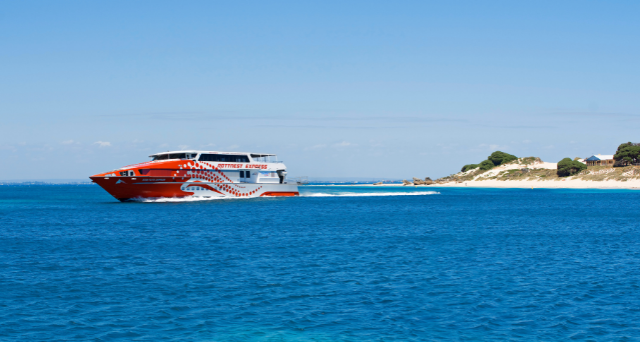 Rottnest Island is one of the most popular tourist attractions in Western Australia. Situated 19kms off the coast of Perth, Rottnest is just a short ferry ride from either Perth or Fremantle.
Rottnest Island is the only A-class nature reserve island within the metropolitan area of Perth and is widely regarded as one of Western Australia's "best kept secrets".
The island boasts 63 pristine beaches and 20 bays, 45kms of walking trails, a rich history, and an array of unique wildlife, including the happiest animal in the world, the Quokka!
Few places in Australia can rival Rottnest's super-accessible combination of beaches, wildlife, outdoor action, and family fun.
The 2022 Australian Masters Games have partnered with Rottnest Express to get you to Rottnest Island. Registered Games participants receive the following offers for travel to Rottnest between 16 April – 7 May 2022:
Visit Rottnest Island for a day and experience more with Rottnest Express island experiences. Receive a 30% discount on same day return ferry fares departing Fremantle or Perth and bike hire with Rottnest Express, the Discover Rottnest Bus Tour or Adventure Boat Tour. Use code AMGGAMES2022 to book.
Get your team together for a fun day out on the island. When travelling together, teams get to Rottnest Island with a 40% discount on same day return ferry fares. Departures are from Fremantle, travel is Monday – Friday only, and group bookings are to have a minimum of four adult passengers. Use AMGGROUP2022 to book.
See below for terms and conditions.
TERMS AND CONDITIONS
Promotional offers are valid for Adult same day return ferry fares. Bookings must be made during the promotional period from 7 December 2021 to 7 May 2022 for travel to the Island between 16 April and 7 May 2022. 30% discount promotion applies to Adult same day return ferry fares, Rottnest Express bike hire, Adventure Boat Tour and Discover Bus Tour only. The $43 ferry fare applies to group bookings with four or more Adult passengers travelling from Northport or B Shed Terminals, Fremantle between Monday and Friday only. The Rottnest Island Authority Admission Fee is collected at time of booking. Fares are subject to availability and are not valid with any other promotional offer. Only valid for new bookings. Not valid in conjunction with any other offer. Valid for direct online bookings only. Fares are non-refundable and non-transferable. Standard booking conditions apply. Visit Rottnest Express Booking Terms and Conditions.
Stay up to date
Receive all the latest Australian Masters Games news delivered direct to your inbox.