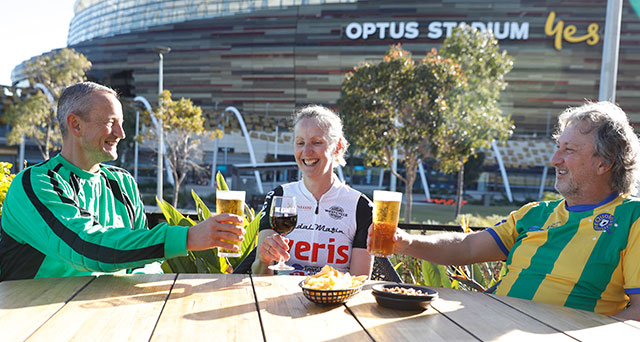 One of the highlights of the Australian Masters Games is the Games Village, that brings together participants from all sports.
In 2021, we'll be putting a West Australian twist on the Village and doing things a little differently.
The centrally located Games Village will deliver all the important Games services including:
the Games Accreditation Centre where participants collect their accreditation pass and Games kit bag
a visitor information service
a huge Games merchandise store (noting some satellite stores will also be in operation at sports venues)
a medal engraving service
customer service desk and lost property
And the Games Village will also provide a unique West Australian social experience for every day of the Games!
However… in 2021, we're excited to announce that we're extending the party to iconic Perth venues. Our three special events – the Opening Ceremony, mid-week function and Closing Ceremony – will be held in different venues throughout the city. Good times ahead… stay tuned for more information!
Please note that the Games Village will be a CASHLESS venue.
Stay up to date
Receive all the latest Australian Masters Games news delivered direct to your inbox.