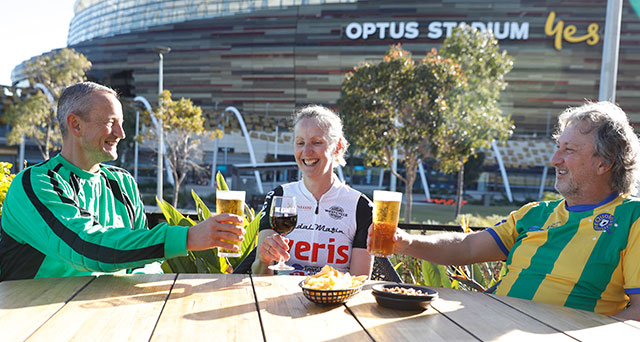 One of the highlights of the Australian Masters Games is 'Games Central', bringing together participants from all sports.
In 2022, we'll be putting a West Australian twist on the traditional Games village concept and doing things a little differently.
Located right in the heart of Perth's CBD in Forrest Place, Games Central will be amidst some of Perth's best hotels, restaurants, bars and major shopping destinations.
Games Central will offer all the usual games services including:
the Games Accreditation Centre where participants collect their accreditation pass and Games kit bag;
a visitor information service;
a Games merchandise store (noting some satellite stores will also be in operation at sports venues);
a medal engraving service;
customer service desk and lost property;
plus we will be partnering with surrounding venues to ensure a distinctive social experience for every day of the Games. Watch this space for further updates!
This is in addition to our three big nights where we're extending the party beyond Games Central to iconic Perth venues:
Optus Stadium will host the Opening Ceremony
Coast Port Beach is the place to be for the mid-week function
WA Museum Boola Bardip will ensure 'A Night at the Museum' for the Closing Ceremony
Good times ahead!
Please note that Games Central will be a CASHLESS venue.
Stay up to date
Receive all the latest Australian Masters Games news delivered direct to your inbox.