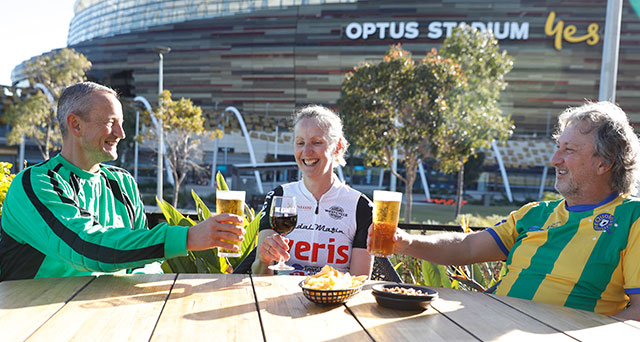 One of the highlights of the Australian Masters Games is 'Games Central', bringing together participants from all sports.
In 2022, we'll be putting a West Australian twist on the traditional Games village concept and doing things a little differently.
Located right in the heart of Perth's CBD, at 20 Queen St, Games Central will be amidst some of Perth's best hotels, restaurants, bars and major shopping destinations.
Games Central will offer all the usual games services including:
the Games Accreditation Centre where participants collect their accreditation pass and Games kit bag;
a visitor information service;
a Games merchandise store (noting some satellite stores will also be in operation at sports venues);
a medal engraving service;
customer service desk and lost property;
plus we will be partnering with surrounding venues to ensure a distinctive social experience for every day of the Games.
All Games participants will be required to collect their accreditation and participant kit bag from Games Central prior to attending the special events or competition. Valid photo ID must be shown upon collection.
Games Central operating hours are as follows:
Scroll right to see all table data.
| Date | Hours |
| --- | --- |
| Thursday 21 April 2022 | 8.00am - 8.00pm |
| Friday 22 April 2022 | 8.00am - 5.00pm |
| Saturday 23 April 2022 | 8.00am - 6.00pm |
| Sunday 24 April 2022 | 8.00am - 6.00pm |
| Monday 25 April 2022 | 1.30pm - 6.00pm |
| Tuesday 26 April 2022 | 8.00am - 6.00pm |
| Wednesday 27 April 2022 | 8.00am - 5.00pm |
| Thursday 28 April 2022 | 8.00am - 6.00pm |
| Friday 29 April 2022 | 8.00am - 6.00pm |
| Saturday 30 April 2022 | 8.00am - 12.00pm |
Note: Games Central will close early on special event evenings.
To ensure the health and safety of our participants, Games Central will be a CASHLESS venue, venue capacity limits will be monitored and masks must be worn whilst inside.
Games Central is located within walking distance from the Perth Busport, Perth City station and Perth Underground.
There are also a number of parking facilities located close by including one directly across the road on Queen St.
For a map of public transport and parking locations, click here.
CPP His Majesty's car park located at 377 Murray Street, Perth offers 3 hour free parking on weekends and public holidays.
Stay up to date
Receive all the latest Australian Masters Games news delivered direct to your inbox.