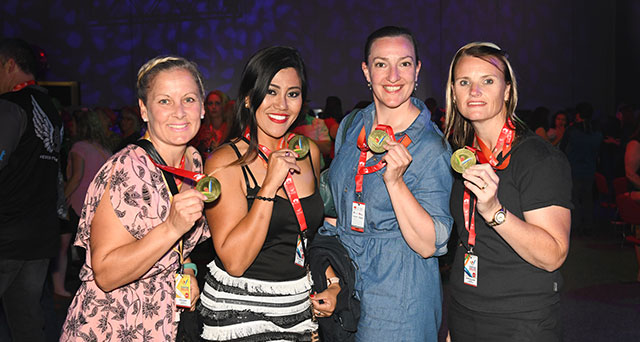 Adventure awaits for our 2021 Australian Masters Games participants, not just on the sporting arena, but also on the dance floor, in the vibrant city laneway bars and eateries and in nature's playground.
The Australian Masters Games is renowned for its social program, almost as much as the sports. And in 2021, the festivities will take in more of Perth over 10 big nights!
Check out the overview of the nightly social program below:
Scroll right to see all table data.
And if you're looking for something to do during the day, why not:

Exclusive Swan River Dinner Cruise
Date: Friday 8 October
Times: From 7.00pm-9.30pm
Venue: Swan River Dinner Cruise, departing from Barrack St Jetty
2021 AMG Offer: $139pp. Book here (awaiting link)
An exclusive 2021 Australian Masters Games Swan River dinner cruise offering the unique opportunity to see the Perth City lights skyline! We invite you to sit back, relax and enjoy the evening atmosphere whilst the crew helps make your experience one to remember. Upon departure the tempting hot buffet awaits, complemented by an assortment of fresh seasonal salads and cold dishes. Complimentary standard beer, wine and soft drink is also available for the duration of the cruise.

Opening Ceremony at Optus Stadium
Date: Saturday 9 October 2021
Times: 6.30pm-11.30pm
Venue: Optus Stadium, 333 Victoria Park Drive, Burswood
Dress: Celebrate your team in your team kit
Parking: Limited parking will be available at the venue
Public Transport: Take the train to Perth Stadium station and take the short walk to the stadium guided by 2021 AMG volunteers
When the siren sounds at Optus Stadium to kick off proceedings on Saturday 9 October 2021 it will be for the opening ceremony of the Australian Masters Games.
Games participants will get to walk on the hallowed turf in the traditional 'parade of athletes' at the iconic venue which was voted the Most Beautiful Sports Facility in the World in the Prix Versailles 2019 international architecture awards. And after the parade comes the party with live music to get the dance floor pumping, with the world class stadium as the backdrop.
Market Grounds
Date: Sunday 10 October
Times: From 5.00pm til late
Venue: Market Grounds, 10 Telethon Avenue, Perth
2021 AMG Offer: 15% off food and beverages
Market Grounds is an award-winning inner-city pub, paying homage to its historical roots as a marketplace. Located near Yagan Square and RAC arena, it marks the first link between the CBD and Northbridge in more than 100 years. Home to delicious food, sophisticated cocktails & Perth's best DJs, Market Grounds is the perfect meeting place for casual drinks, large soirees and anything in between.

Print Hall
Date: Monday 11 October
Times: From 5.00pm til late
Venue: Print Hall, 125 St Georges Terrace, Perth
2021 AMG Offer: Happy hour pricing from 5.30pm to 7.30pm including $7.00 pints and wines and 10% off the Print Hall Bar food menu
Discover Perth's greatest inner-city heritage listed pub, Print Hall Bar. Relish in a flowing beverage list to rival all others and a selection of delicious modern Australian dishes in their bar or restaurant. Print Hall is also home the The Apple Daily Bar and Eating House, one of Perth's most iconic Modern Asian restaurants, and the rooftop oasis that is Bob's Bar.

The Globe
Date: Tuesday 12 October
Times: From 5.00pm til late
Venue: The Globe, 497 Wellington St, Perth
2021 AMG Offer: 10% off your total bill via the Australian Venue Co app using the code Masters21
One of the best places to eat in Perth's CBD, The Globe features a large vibrant beer garden and bar, designed to make the most out of Perth's sunshine. The modern Australian menu serves up something for everyone, from bar bites to burgers, and shared platters. An extensive beer list of international and local brews means you will be spoiled for choice, and the seasonally updated wine and cocktail offers something new with each visit.

Mid-Week Beach Barbecue at Coast Port Beach
Date: Wednesday 13 October 2021
Times: 6.00pm-11.00pm
Venue: Coast Port Beach, 42 Port Beach Road, North Fremantle
Dress: Bring your beach barbie vibes
Parking: Limited parking will be available on the southern side of the venue
Public Transport: Take the train to North Fremantle station, where you will be greeted by a 2021 AMG shuttle to transport you to the venue
On Wednesday 13 October play moves from the stadium to the sand for a massive beach barbie at Coast Port Beach. Games participants will experience an unforgettable Indian Ocean sunset at the beach bar located in Fremantle – just one of Perth's pristine metropolitan beaches. Toes in the sand and a West Australian wine in your hand… now that's something to look forward to!

The Lucky Shag Waterfront Bar
Date: Thursday 14 October
Times: From 5.00pm til late
Venue: The Lucky Shag Waterfront Bar, Barrack Street Jetty, Riverside Drive, Perth
2021 AMG Offer: $20 burger and drink deal
The Lucky Shag is Perth's premier waterfront venue right on the city edge. With a large expansive deck they cater to both walk ins and reservations for casual pub dining and corporate sundowners with the best views of the Swan River. Established in 1998 the venue has grown into an iconic Perth venue with great food and the freshest beer in town!

Hadiqa
Date: Friday 15 October
Times: From 5.00pm til late
Venue: Hadiqa, 40 Irwin Street, Perth
2021 AMG Offer: 20% off food and beverages. Maximum discount $45.00. Not to be used in conjunction with any other offer. Ts&Cs apply.
Hadiqa is a Middle Eastern-inspired oasis nestled in Hibernian Place. Inspired by the Arabic word for 'garden', Hadiqa is a stunning rooftop bar and restaurant which offers an escape from the concrete jungle of Perth's CBD.
Bringing a touch of spice, Hadiqa delivers a signature share-friendly menu fused with Moroccan, Mediterranean and Greek flavours which can be enjoyed with a selection of bespoke cocktails, unique craft beers and thoughtful wine offering. Belly dancers and snake handlers make regular appearances too!
Sit back and sip on their signature Turkish Delight martini under the stars and prepare to be transported somewhere truly beautiful.

Closing Ceremony at WA Museum Boola Bardip
Date: Saturday 16 October 2021
Times: 6.30pm-11.30pm
Venue: WA Museum Boola Bardip, James Street Mall, Perth CBD
Dress: Dress up for a night at the muesum
Parking: Paid parking will be available at City of Perth State Library (Nearest ACROD).
City of Perth Cultural Centre Carpark.
Public Transport: Take the train to Perth station and take the short walk to the venue
To close out the Games on Saturday 16 October, Games participants are in for 'A Night at the Museum' with the brand-new WA Museum Boola Bardip to host the closing ceremony. But it won't be the museum exhibits coming to life, it will be the Games participants firing up after a big eight days of sport to ensure a Games send-off to remember!
Located at the heart of the Perth Cultural Centre on Whadjuk Nyoongar land, Boola Bardip means 'many stories' in local Nyoongar language. Games participants can choose their own adventure at the closing party – perhaps dancing the night away or maybe exploring exhibitions that showcase the rich diversity of Western Australia's cultural and natural heritage. This stunning new venue opened in November 2020 and is sure to be a highlight.

Little Creatures and Harbourside Freo
Date: Sunday 17 October
Times: From 11.00am til late
Venue: Little Creatures and Harbourside Freo, 40 Mews Rd, Fremantle
2021 AMG Offer: 10% off all food and beverages
Little Creatures on the water's edge in Fremantle is an iconic brewery renowned for its fresh from the tank beer, great food and vibrant atmosphere. Open 7 days a week for lunch and dinner it's a venue not to be missed. Join a brewery tour at 12 or 2pm daily or simply soak up the vibe with a pint and a woodfired pizza. Next door in Harbourside enjoy the best views in the harbour whilst sipping on a delicious cocktail or some Mediterranean cuisine.
Stay up to date
Receive all the latest Australian Masters Games news delivered direct to your inbox.